The Israeli right's urge to take the Temple Mount threatens to turn 2,000 years of Judaism on its head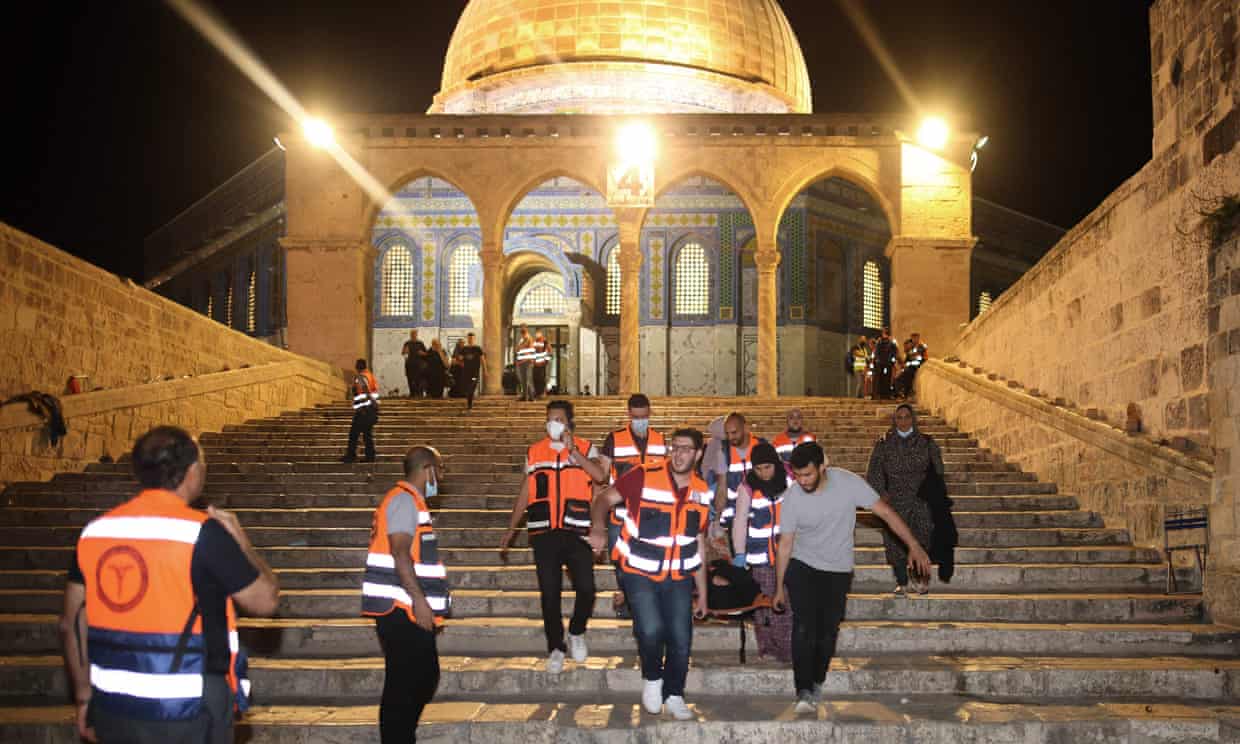 Palestinian medics evacuate a wounded person after clashes in Jerusalem's al-Aqsa mosque compound on 10 May 2021. Photograph: Ahmad Gharabli/AFP/Getty Images
O
n Monday, an
apocalyptic video
from Jerusalem began to circulate on social media. In the background, it showed a large fire raging on the site Muslims call al-Aqsa or al-Haram al-Sharif, and Jews call the Temple Mount. A tree was ablaze next to al-Aqsa mosque (some blamed Israeli police stun grenades, others blamed Palestinians shooting fireworks, perhaps aiming at Jewish worshippers). Below, the large plaza of the Western Wall was full with young Jewish Israelis, identified with the religious Zionist right, celebrating "Jerusalem Day" (marking the occupation of East Jerusalem in 1967). They were cheering at the sight of the fire, singing an anthem of vengeance popular in extreme-right circles. The lyrics are the words of Samson, just before he pulled down the pillars of the Temple in Gaza: "O God, that I may with one blow take vengeance on the Philistines for my two eyes!" The Israeli teenagers, visibly ecstatic, jumped up and down and shouted: "May their name be effaced!"...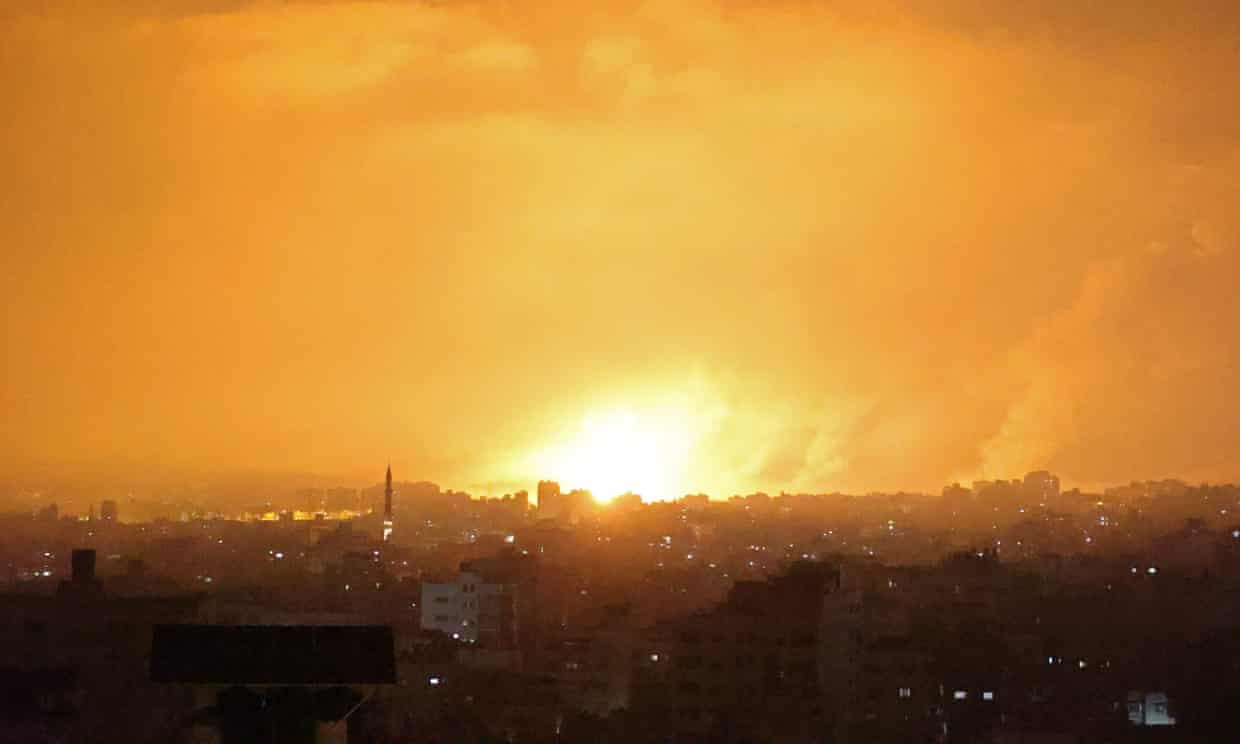 An explosion lights the sky after an airstrike in the northern Gaza Strip, as the conflict escalates following ground attack by Israel Defense Forces troops. Photograph: Mohammed Abed/AFP/Getty Images
Military says ground forces are carrying out strikes on Gaza Strip – but are not operating inside territory – amid escalating crisis
Oliver Holmes
in Jerusalem
, Harriet Sherwood
and agencies
|
The Guardian
| 21.05.14
"With its unconditional financial, military, and diplomatic support of the Israeli apartheid regime, the U.S. bears responsibility for the everyday violence of Israeli oppression."
Israeli soldiers prepare to fire artillery shells towards the Gaza Strip from their position near the southern Israeli city of Sderot on May 14, 2021. (Photo: Jack Guez/AFP via Getty Images)
US public opinion seems to be swinging in support of Palestinian rights, but it must go further to begin real change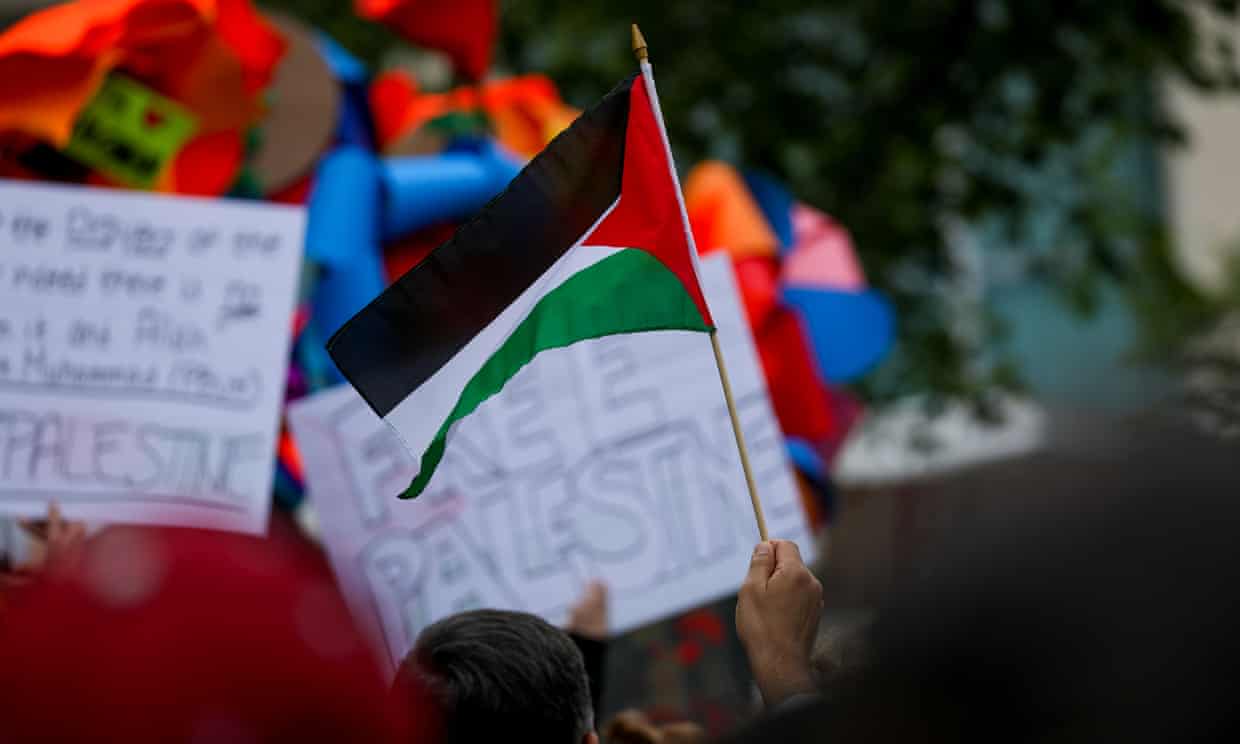 People in Washington DC protest Israeli attacks on Palestinians. Photograph: Anadolu Agency/Getty Images
T
he headlines speak mainly of "clashes", "conflict", and "casualties on both sides". The politicians recite bromides about Israel's "right to defend itself"– a right that Palestinians seemingly do not have. The US government
calls
for "all parties to deescalate", with no acknowledgment that it is US funds –
$3.8bn a year
– that, in part, make Israel's bombardment of Gaza possible. This is the familiar American routine when Israel goes to war....