"It is cruel and outrageous that GM has cut off the healthcare benefits from their employees in a blatant attempt to force the union into submission," said Sen. Bernie Sanders.
United Auto Workers (UAW) members walk the picket line at the General Motors Flint Assembly Plant after the UAW declared a national strike against GM at midnight on September 16, 2019 in Flint, Michigan. (Photo: Bill Pugliano/Getty Images)
In a move critics said exposes both the particular cruelty of General Motors executives and the systemic inhumanity of the American healthcare system, GM on Tuesday stopped covering health insurance premiums for the nearly 50,000 auto workers striking for fair wages and decent benefits.
The move shifts healthcare costs to the United Auto Workers (UAW), which will be forced to reach into its strike fund to pay the bills. As HuffPost reported, UAW negotiators on Monday sought to confirm with GM that workers' benefits would be covered through the end of the month. Hours later, GM said the benefits have been terminated.
"A note to anyone who wants to use union members as a wedge to oppose Medicare for All: UAW has one of the best plans in the country, but management can still use it to hold workers hostage. M4A puts power back in our hands."
—Sara Nelson, Association of Flight Attendants
"GM's decision to yank healthcare coverage away from their dedicated employees with no warning is heartless and unconscionable," said Mary Kay Henry, president of the Service Employees International Union (SEIU). "GM's actions could put people's lives at risk, from the factory worker who needs treatment for their asthma to the child who relies on their parents' insurance for chemotherapy."
"The UAW workers on the strike lines are showing immense bravery in the face of intimidation," added Henry.
The auto workers' nationwide strike, described as the largest in more than a decade, began just before midnight on Sunday after negotiations between UAW and GM broke down, with union leaders and members accusing management of proposing insulting wage increases and paltry benefits.
As the New York Times reported, GM is pushing for "employees to pay a greater portion of their healthcare costs" even as the company rakes in record-level profits and massive gains from the GOP tax bill.
Sen. Bernie Sanders (I-Vt.), a 2020 Democratic presidential candidate, said in a statement Tuesday night that GM's decision to stop healthcare payments "is the type of corporate greed that the American people are sick and tired of."...
It's been two years since Amazon acquired Whole Foods, putting a corporate banner over a mission-based company. In that time, there's been very little in the way of good news for employees, and with reports that Amazon will no longer pay for health-care benefits for about 1,900 of its employees, the downward trend continues.
Business Insider reports that starting on January 1, 2020, employees will have to work a minimum of 30 hours per week to qualify for health-insurance coverage. Previously, that number was 20 hours per week. In a statement to BI, a company spokesperson said the change was made "to better meet the needs of our business and create a more equitable and efficient scheduling model."...
Employment in the industry is projected to grow, but women – particularly women of color – are being left behind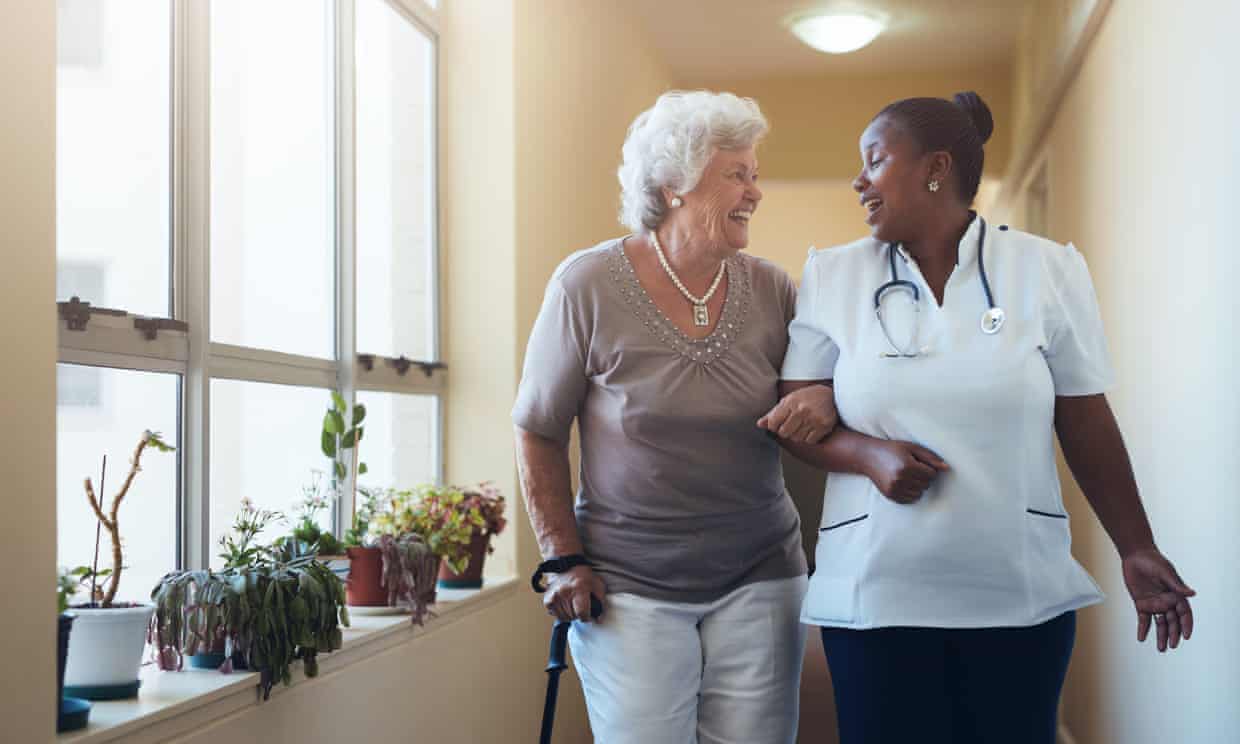 In the US, nine out of 10 home care workers are women and 25% are African American. Photograph: jacoblund/Getty Images/iStockphoto
....The job is physically strenuous and ranks high on the list for work-related accidents. It is also emotionally taxing. Deborah O'Bryant, a home health aide for the past 12 years, remembers one of her hardest experiences was caring for a cancer patient: "I had to take her to radiation every day. She could not speak. I learned how to read lips."
And yet many of these workers fail to earn a living wage. According to government data, healthcare support occupations such as home health aides had a median annual wage of $24,060 in May 2018, lower than the median annual wage for all occupations in the economy.
According to a report by Paraprofessional Healthcare Institute (PHI), a not-for-profit organization based in New York City that works to improve long-term services and support for elders and individuals with disabilities, in 2017, one in five home care workers lived below the federal poverty line and over half relied on some form of public assistance [bad link].
Caitlin Connolly, an expert at the National Employment Law Project (NELP) sees a direct link between low wages in the care giving sector and the legacy of slavery. African American women who didn't work the fields had to provide unpaid household care for white families. Even after emancipation those former slaves and their descendants were kept out of good-paying industries and denied the protections given to other workers. "Up until 2015, home care workers did not have the right to a federal minimum wage," she says. Care workers were even excluded from the protections provided by the landmark Fair Labor Standards Act of 1938 to accommodate southern segregationists.
And despite the demands of an ageing US population and the tight labor market, wages for women across the United States remain lower than men's. According to the Institute for Women's Policy Research, female home health aides and registered nurses earn 92% of their male counterparts' wages.
Able to earn more elsewhere, it appears men are ditching healthcare. Nora Higgins, a nurse practitioner who teaches at nursing school has witnessed how men have been dropping out of her classes since she started teaching back in 2001. "Out of a class of 90 there used to be 12 to 15 [men]. Now there are only a handful," she says.
Across all occupations, female full-time employees earn 80 cents for every dollar that a man earns. And the gap is far worse for women of color. On average black women in the US are paid 38% less than white men....
While bribing your child's way into an elite college is pretty bad, it pales in comparison with the millions of dollars in bribes paid every hour in America at the federal and state level so billionaires and big corporations can get the laws they want.