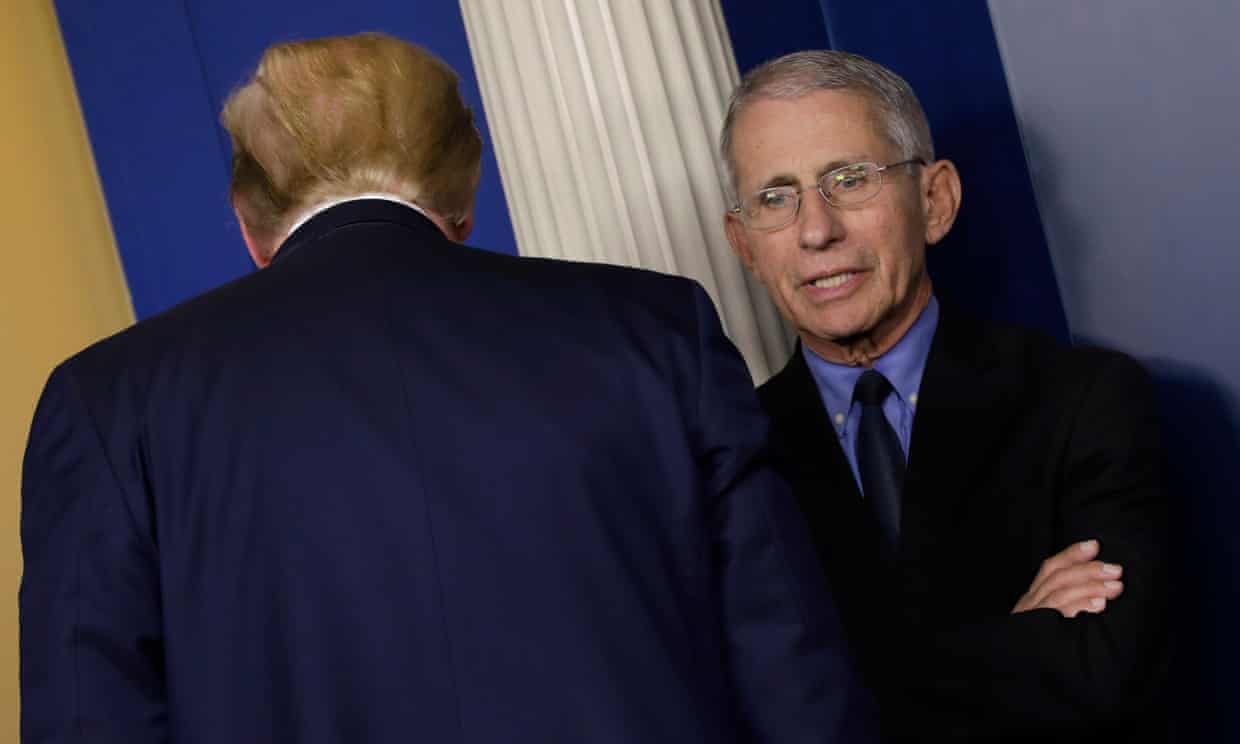 'If somebody does not consistently parrot the president's proclamations with adequate intensity, they are fired, or it is leaked that their firing could be imminent at any time.' Photograph: Yuri Gripas/EPA
Healthcare professionals at a drive-thru testing site in Houston this month. Rapidly increasing testing is a first step toward sharply limiting the spread of Covid-19. Credit...David J. Phillip/Associated Press
....I've helped make the case before that a strong, fast, federal effort to speed the distribution of testing, protective gear, intensive care equipment and training, to coordinate and plan a national response, could sharply limit the spread of Covid-19.
The [now dangerously incompetent] federal government has done little, but if it acts now a similarly strong national response may allow America to open up sooner — in June, not by Easter — and do it more safely. Here's how:
Stop the virus. A nationwide shelter-in-place or quarantine should take place for the next eight to 10 weeks. According to Chinese data, this would mean the number of Covid-19 cases would peak in four weeks or so and then decline over the next four to six weeks. So, as hard as it will be, everybody but crucial workers will have to remain inside until roughly June 1st.
Make reasonable exceptions. In counties with few cases of Covid-19 and the ability to test and trace infected people's contacts, normal life could go on as long as people believed to be infected are quarantined and those who are known to be infected are rapidly isolated.
Mobilize public health resources. During the eight weeks of shelter-in-place, the federal government needs to produce and distribute enough tests so state and local health officials can check as many people as possible, even those without symptoms, and determine the true extent of infections. We should also push the Food and Drug Administration for rapid approval of blood tests to determine who has antibodies to coronavirus, and is thus immune, and then deploy millions of them.
State and local health department then need to deploy thousands of teams to trace contacts of all new Covid-19 cases using cellphone data, social media data, and data from thermometer tests and the like. We also need to get infected people to inform their own contacts. It will be easier to lift the national quarantine if we isolate new cases, find and test all their contacts, and isolate any of them who may be infected....
In a signing statement, President Trump suggested he had the power to decide what information a newly created inspector general had to share with Congress. Credit...Erin Schaff/The New York Times
....In a signing statement released hours after Mr. Trump signed the bill in a televised ceremony in the Oval Office, the president suggested he had the power to decide what information a newly created inspector general intended to monitor the fund could share with Congress.
Under the law, the inspector general, when auditing loans and investments made through the fund, has the power to demand information from the Treasury Department and other executive branch agencies. The law requires reporting to Congress "without delay" if any agency balks and its refusal is unreasonable "in the judgment of the special inspector general."
Democrats blocked a final agreement on the package this week as they insisted on stronger oversight provisions to ensure that the president and Treasury Secretary Steven Mnuchin could not abuse the bailout fund. They feared that Mr. Trump, who has previously stonewalled congressional oversight, would do the same when it came to the corporate aid program.
But in his statement, which the White House made public about two hours after the president signed the bill, Mr. Trump suggested that under his own understanding of his constitutional powers as president, he can gag the special inspector general for pandemic recovery, known by the acronym S.I.G.P.R., and keep information from Congress....