Senators accept global warming is not a hoax but fail to recognise human activity is to blame, nearly 27 years after scientists laid out man's role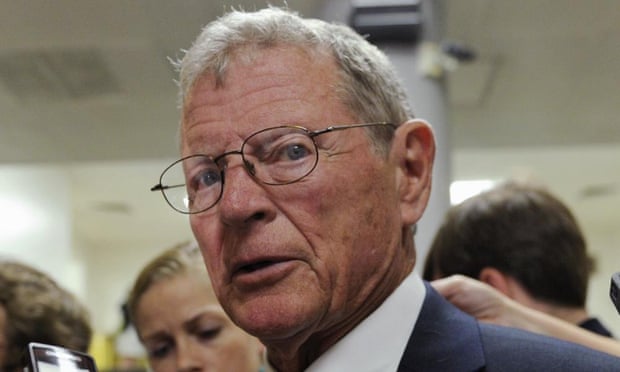 Republican and US senator James Inhofe: 'Man can't change climate'. Photograph: Susan Walsh/AP
Move to lease large swaths of ocean along east coast and double down in Gulf of Mexico oddly comes in wake of attacks against right for climate change denial
If we really want to reform health care, in the little time we may have before our health care bubble bursts, we will need to take strong action against health care corruption. Such action will really disturb the insiders within large health care organizations who have gotten rich from their organizations' misbehavior, and thus taking such action will require some courage. Yet such action cannot begin until we acknowledge and freely discuss the problem. The first step against health care corruption is to be able to say or write the words, health care corruption.
Decades in the making, Iter, a huge experimental nuclear fusion reactor in rural France, could be the site of breakthroughs that will provide limitless, clean energy and secure the planet's future
Glacier monitoring technology shows the most rapid glacier depletion for at least three centuries. Big glaciers are shrinking, with small ones disappearing altogether
Polluting factories and skyrocketing vehicle ownership blamed as report finds tourism to Chinese city falls 10% on year before
---
Though Canada's system is the second most expensive in the world per capita, it would save America $1.3 Trillion/yr and cover everyone
Dr. Peter Bach: Medicare has to pay exactly what the drug company charges. Whatever that number is.
Lesley Stahl: Wait a minute, this is a law?
Dr. Peter Bach: Yes.
Lesley Stahl: And there's no negotiating whatsoever with Medicare?
Dr. Peter Bach: No.
[All other OECD countries negotiate much lower drug costs]
Looking at real bills for real patients cuts through the ideological debate over health care policy.
If we had the per-person costs of any other OECD country, America's deficits would vanish....
How Industry Money Reaches (aka 'bribes') Physicians
Who has time to shop?
]
SOURCE: Public Broadcasting System & ABC News | Ref.
Greek election victor Alexis Tsipras wants an entirely different Europe from the one envisioned by Angela Merkel. His success is likely to stoke anger over Germany's EU dominance. Leaders in France and Italy are also hoping for an end to austerity.

Podemos has quickly become a prominent player in Spanish politics as regional, municipal and general elections approach

Land moving upward faster than researchers expected at 1.4in every year, allowing 'hot potato' rocks to rise

Lagging behind the rest of the developed world, American brands continue to opt for the worst packaging materials, according to a report released Thursday

Big brands, including Burger King, Dunkin Donuts, KFC, Kraft Foods and MillerCoors, are wasting billions of dollars worth of valuable materials because they sell food and drinks in subpar packaging, according to a comprehensive new report on packaging and recycling by the fast food, beverage, consumer goods and grocery industries.

Sarah Palin's eccentric speech to a Republican conference in Iowa last weekend, which has been criticised even by some of her conservative supporters, has now helped a group backing Hillary Clinton to raise $50,000, a spokesman said on Thursday.

More young people are living in poverty and fewer have jobs compared their parents' generation, the Baby Boomers, in 1980.

Toxic smog billowing from China's coal-fired power plants is making snowstorms in the U.S. worse.

Researchers at the Institut Pasteur are currently developing two vaccines which they hope will be in human trials by the end of the year.

One is a modification of the widely used measles vaccine, where people are given a weakened and harmless form of the virus which in turn triggers an immune response. That response fights and defeats the disease if someone comes into contact with it.

The idea, if it proves successful, would be that the vaccine would protect against both measles and Ebola.

Capital and engineering talent have been flocking to seemingly trivial mobile apps. But would we really be better off if more startups instead went directly after big problems?

Over the past five years, total profits of the current Dow 30 members surged by more than 42% through the end of 2014, to nearly $320 billion. This has driven the average annual profit per employee up by more than 34% since 2009, to $48,887. It hardly bears repeating that wages across the U.S. economy have barely grown at all in recent years beyond the general rate of inflation.

....If there's a bright side for the working American, it's that this trend is showing some tentative signs of having peaked.
Proposal calls for investment in a full range of infrastructure projects, and he says it would put 13 million people to work

"For too many years, we've underfunded our nation's physical infrastructure. We have to change that and that's what the Rebuild America Act is all about. We must modernize our infrastructure and create millions of new jobs that will put people back to work and help the economy," said Sen. Bernie Sanders (I-Vt.), the ranking member of the Senate Budget Committee, who introduced the $1 trillion bill.

Prominent Republican Dan Patrick accused of reneging on his promises after appearing lukewarm on open carrying of handguns

Loretta Lynch promised to repair the Justice Department's toxic relationship with the GOP. That might be enough to get her the job.

What's behind the "debate" over issues like climate change and vaccination? Can evidence change people's minds?

On certain hot-button scientific topics of our day, Pew Research Center found wide gaps between what the public believes, and what scientists believe. You can probably guess which ones.

[

Another Fox News problem...

]

Only some of the money, the amount of which is nearly double what the Kochs spent on 2012 elections, would come from the brothers themselves

Letters to the Editor

Readers | Ongoing

The poorer parents are, the less they talk with their children—harming their children's vocabulary and IQ. The mayor of Providence is trying to close the "word gap."

This week Kurdish forces took full control of Kobani, a Syrian town near the Turkish border, after months of bombardment by Islamic State. Mona Mahmood speaks to four Kurdish families about the female fighters who died helping to wrest control of the town from Isis

As this year's World Economic Forum underlined, growth dominates Davos discussions – yet the focus should be on sustainable development

....Gates went on to highlight a Microsoft project known as the "Personal Agent," which is being designed to help people manage their memory, attention and focus. "The idea that you have to find applications and pick them and they each are trying to tell you what is new is just not the efficient model - the agent will help solve this," he said. "It will work across all your devices."

The response from Reddit users was mixed, with some making light of Gates's revelation ("Clippy 2.0?," wrote one user) -- and others sounding the alarm.

"This technology you are developing sounds at its essence like the centralization of knowledge intake," a Redditor wrote. "Ergo, whomever controls this will control what information people make their own. Even today, we see the daily consequences of people who live in an environment that essentially tunnel-visions their knowledge."

[

(Like Fox News...) The main issue is focusing on AI development for the good and avoiding the bad, and who does that?

]

Turkey has become a hub for human traffickers, with freighters picking up Syrians in the port city and smuggling them on to Europe. It's a lucrative business built on the hardships of others.

The terrorists' goal is to spread irrational fear and cause costly overreactions that divide society along the lines they choose. Our intelligence officials shouldn't be helping them. There will always be those that use violence to make political points. Recognizing this is a sign of weakness rather than strength will help us build a stronger and more resilient society that fear could never defeat.

"Systems need to be built in a way that is difficult to attack. You need to have a holistic view of cybersecurity....

The assumption in German Chancellor Angela Merkel's entourage before Sunday's Greek election was that Tsipras, the charismatic leader of the far-left Syriza party, would eke out a narrow victory, struggle to form a coalition, and if he managed to do so, shift quickly from confrontation to compromise mode.

Instead, after cruising to victory and clinching a fast-track coalition deal with the right-wing Independent Greeks party, he has signalled in his first days in office that he has no intention of backing down, unsettling officials in Berlin, some of whom admit to shock at the 40-year-old's fiery start.

Ordnance left by parting international troops kills or injures about 40 people a month – the vast majority children

How the rise of the Swiss franc could destabilize Europe

Altogether about 566,000 Polish households, 150,000 Romanian households, and 60,000 Croatian households bought lower-interest Swiss-franc denominated mortgages. Most astonishing of all was the Hungarian case: half of all households in Hungary contracted foreign-currency debt, almost always in the form of Swiss francs....

Everywhere in Europe, traditional modes of leadership and established institutions are unraveling. Last weekend, Greece elected a government that rejects EU-imposed austerity (a neo-Nazi party finished third). Marine Le Pen of the far-right, anti-EU National Front leads the polls in French presidential matchups. If the polls are accurate, almost half of all Italian voters support parties that are skeptical of or outright opposed to the European Union.

The last thing Europe needs is one more shove toward the ideological extremes. But thanks to its mortgage bankers, and the unintended consequences of Swiss monetary policy, it may have just received another.

The recent decision by the European Central Bank to open the monetary floodgates has weakened the euro and is boosting the German economy. But the move increases the threat of turbulence on the financial markets and could trigger a currency war.

Wal-Mart says it wants to be part of the solution of rebuilding our manufacturing sector. But to walk the walk, Wal-Mart needs to sell a much higher percentage of goods in its stores that are actually manufactured in the U.S.

The effective corporate income tax rate is almost exactly the same in the United States as in other OECD countries. (While the U.S. statutory corporate tax rate is well above the OECD average, the many loopholes in the U.S. corporate tax bring the effective rate down substantially.) Then how is it that corporate taxes account for a much smaller share of GDP in the United States than in other high-income countries? The answer lies in forms of incorporation that allow U.S. corporate profits to be taxed at the lower individual income tax rate.

---

Recent events involving a controversial drug, cruel mistakes and arbitrary, last-minute decisions have exposed the United States' system of capital punishment for exactly what it is: a human rights violation unworthy of a democracy.

In the hearing to confirm her as attorney general, Loretta Lynch confirmed that waterboarding is torture. She should prosecute those who did it