Bulldozers and diggers work on the Egyptian side of the Gaza border. Photograph: Khalil Hamra/AP
Wars and eight-year economic blockade have left 'almost all of population destitute', says UN body
A hard-hitting new United Nations report says Gaza could become uninhabitable in less than five years if current economic and population trends continue.
It cites what it describes as the "de-development" of the blockaded coastal strip, which is at present home to some 1.8 million Palestinians but is expected to grow to 2.1 million by 2020.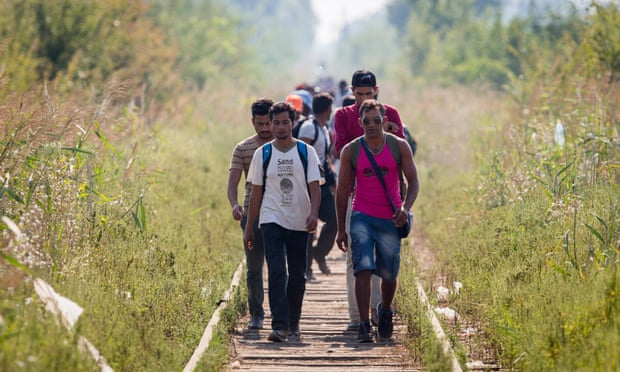 A group of migrants walk to Serbia's border with Hungary. Photograph: Matt Cardy/Getty Images
Governments divided over how to deal with unprecedented migration to the EU, with states increasingly blaming each other
The top lobbyist for the agreement, along with John Kerry's former chief of staff, answer a prominent critic's questions for President Obama.
Last week, I posted a series of sharp, critical questions addressed to President Obama from Robert Satloff, the executive director of the Washington Institute for Near East Policy, about the Iran nuclear deal. A number of administration surrogates have subsequently offered me their own answers to Satloff's questions.
US police have fatally shot 30 people in moving vehicles this year, despite federal guidelines advising them not to. Why have police departments pulled the trigger on drivers rather than reform?
After two mistrials, prosecutors to drop murder charge against former police chief Richard Combs as he agrees to plead guilty to misconduct in office
In video footage shot by a student and provided to local news network, there appears to be no visible attempt by the deputies to use non-lethal force
Police officers who arrived at the wrong metro Atlanta home after a report of suspicious activity shot the man who lives there, killed his dog and "likely" shot a fellow officer, leaving him seriously wounded, authorities said Tuesday.
After the Wisconsin governor called a possible border wall 'a legitimate issue', Canada's defence minister calls idea old-fashioned as others ridicule Walker
The state nearly set a record for number of acres burned this year, while the Iditarod once more had to be moved north.
The average winter temperature in Alaska has increased by six degrees over the past 60 years, and Alaska's has had more extremely hot days and fewer extremely cold days over the last few decades, according to the National Climate Assessment. Precipitation has increased too, as winters see more rain and less snow.
The former secretary of labor explains how we can tweak patent law so it benefits more than a privileged few
In 1928, famed British economist John Maynard Keynes predicted that technology would advance so far in a hundred years – by 2028 – that it will replace all work, and no one will need to worry about making money.
[....Instead of raising taxes on the very very rich—who would find ways to hide or avoid taxes—] suppose we look instead at the patents and trademarks by which government protects all these new inventions.
Such government protections determine what these inventions are worth. If patents lasted only three years instead of the current twenty, for example, What'sApp would be worth a small fraction of $19 billion – because after three years anybody could reproduce its messaging technology for free.
Instead of shortening the patent period, how about giving every citizen a share of the profits from all patents and trademarks government protects? It would be a condition for receiving such protection.
Say, for example, 20 percent of all such profits were split equally among all citizens, starting the month they turn eighteen.
In effect, this would be a basic minimum income for everyone.
The sum [ideally] would be enough to ensure everyone a minimally decent standard of living – including money to buy the technologies that would free them up from the necessity of working. [A higher (and internationally uniform) financial transaction tax could supplement shared patent revenue for minimum incomes]
"I think you're looking at the candidate who can substantially increase voter turnout all across the country."
Democratic candidates for president flew to the Twin Cities last week to make their pitches to members of the Democratic National Committee. They did not come to debate—a missed opportunity highlighted by Martin O'Malley in a fiery speech decrying the DNC's constricted debate schedule—but to sell themselves to the men and women who devote their waking hours to figuring out how to elect Democrats.
....Sanders spoke a language that DNC members are learning in a turbulent campaign season that has already produced a fair share of surprises; offering a mixture of progressive-populist agenda and political tough love. The senator from Vermont held nothing back when he spoke to the committee members—and to a crowd of Minnesota grassroots activists that had packed into the ballroom to cheer him on. "My friends, the Republican Party did not win the midterm election in November: We lost that election," Sanders declared. "We lost because voter turnout was abysmally, embarrassingly low, and millions of working people, young people and people of color gave up on politics as usual and they stayed home. That's a fact."
"In my view, Democrats will not retain the White House, will not regain the Senate or the US House, will not be successful in dozens of governor races across the country, unless we generate excitement and momentum and produce a huge voter turnout," said Sanders, who added, "With all due respect—and I do not mean to insult anyone here—that turnout, that enthusiasm, will not happen with politics as usual. The people of our country understand that given the collapse of the American middle class, and given the grotesque level of income and wealth inequality we are experiencing, we do not need more establishment politics or establishment economics."
Most Democrats regard the Iraq War as a historic disaster. Clinton voted for that conflict. That hawkishness wasn't a fluke. She pushed for U.S. intervention in Libya without Congressional approval and without anticipating all that has gone wrong in that country. She favored U.S. intervention in the Syrian civil war as well. Why haven't Democrats concluded that she has dangerously bad judgment on foreign policy? She certainly hasn't done anything to distinguish herself in that realm.
Along with the Iraq War, Democrats disdained George W. Bush for the Patriot Act, his expansive views on executive power, and his awful record on transparency. Clinton voted for the Patriot Act. She shows every sign of embracing a similarly expansive view of executive power. And she took extraordinary steps to shield her emails from federal public-records and freedom of information laws.
Then there are her financial backers.
Many Democrats are sympathetic to Occupy Wall Street and to the notion that wealthy special interests on Wall Street are rigging the system by buying off politicians. Who is more bought off than Clinton? It isn't just her campaign coffers and her family's foundation that benefit from Wall Street money. Her family's private accounts are flush with funds from big banks, including at least one that benefitted from her tenure at State and paid her husband seven figures for a speaking gig. It is naive to think that she won't look out for the interests of Big Finance in Washington.