Violence erupts as protesters smash windows and throw rocks
Trump within a few dozen delegates of clinching nomination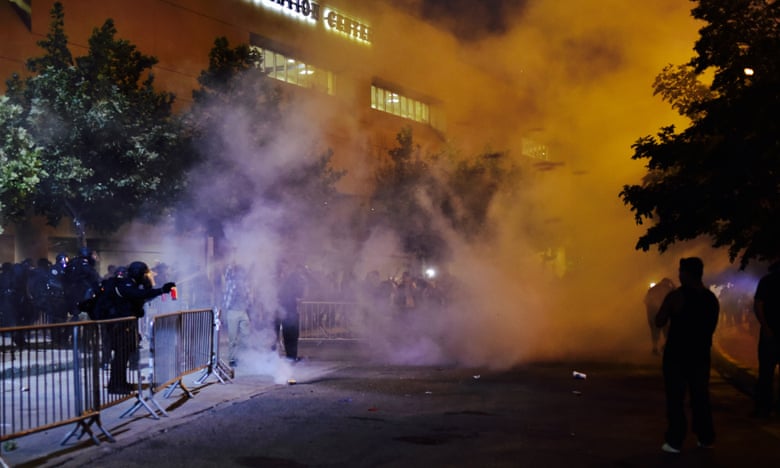 Riot police appear to pepper spray anti-Trump protesters outside the Albuquerque Convention Center Photograph: REX/Shutterstock
Donald Trump easily won the Washington state primary on Tuesday, but his victory was overshadowed by violence outside a Trump rally in Albuquerque, New Mexico, where protesters smashed windows and threw rocks at police.
In a strange quirk of party politics, the Democrats also held a presidential primary in Washington on Tuesday, but it didn't matter in the slightest because the Democratic delegation from Washington was already settled by a caucus in March, at which Bernie Sanders beat Hillary Clinton 73% to 27%.
Critics say Florida's efforts to contain an epidemic unleashed within its borders have only had limited effect in curbing one crisis while making another worse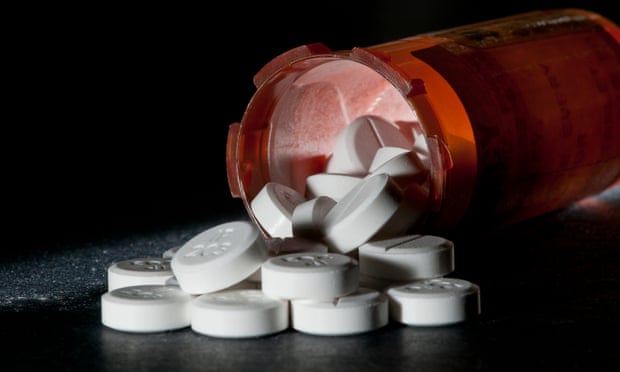 After Florida spent years trying to shake off its reputation by driving out of business the worst of the notorious 'pill mills', a twist came that officials hadn't predicted. Photograph: Education Images/UIG via Getty Images
Florida was the crucible of the opioid epidemic now gripping the US. Before deaths from opiates spiked nationwide, the state's south corridor earned the name "Oxy Express" for its liberal access to the extraordinarily powerful synthetic heroin painkiller, OxyContin.
But after Florida spent years trying to shake off its reputation by driving out of business the worst of the notorious "pill mills", the twist came that state officials hadn't predicted.
When the addicts Florida facilitated could not get prescription opioids anymore, they turned to heroin.
Susanna was young, single, broke and pregnant in southern Texas where, thanks to the state's strict laws, her chances of getting a surgical abortion at a clinic were slim to none.
So she did what an estimated 100,000 women or more in Texas have done - had a self-induced abortion.
With the help of a friend, some online instructions and quick dash across the Mexican border for some pills, she addressed the issue of unwanted pregnancy in a state where women are finding abortion services too expensive and too far away.
Restrictive laws took hold in Texas in 2013, forcing so many clinic closings that fewer than 20 remain to serve 5.4 million women of reproductive age.
Supporters of the laws say they protect women's health. The regulations require clinics to upgrade to hospital standards and doctors performing abortions to have formal agreements to admit patients to local hospitals.
But experts say that if the U.S. Supreme Court upholds Texas' restrictive abortion laws, the numbers of self-induced abortions will escalate.
So far, the number of Texas women who have taken that option could be as high as 100,000 to 240,000, depending on how it is calculated, experts say.
Slush Funds, Smoke and Mirrors, and Funny Money Equal Weapons Systems Galore
Now you see it, now you don't. Think of it as the Department of Defense's version of the street con game, three-card monte, or maybe simply as the Pentagon shuffle. In any case, the Pentagon's budget is as close to a work of art as you're likely to find in the U.S. government -- if, that is, by work of art you mean scam.
The United States is on track to spend more than $600 billion on the military this year -- more, that is, than was spent at the height of President Ronald Reagan's Cold War military buildup, and more than the military budgets of at least the next seven nations in the world combined. And keep in mind that that's just a partial total. As an analysis by the Straus Military Reform Project has shown, if we count related activities like homeland security, veterans' affairs, nuclear warhead production at the Department of Energy, military aid to other countries, and interest on the military-related national debt, that figure reaches a cool $1 trillion.
The more that's spent on "defense," however, the less the Pentagon wants us to know about how those mountains of money are actually being used. As the only major federal agency that can't pass an audit, the Department of Defense (DoD) is the poster child for irresponsible budgeting.
It's not just that its books don't add up, however. The DoD is taking active measures to disguise how it is spending the hundreds of billions of taxpayer dollars it receives every year -- from using the separate "war budget" as aslush fund to pay for pet projects that have nothing to do with fighting wars to keeping the cost of its new nuclear bomber a secret. Add in dozens of other secret projects hidden in the department's budget and the Pentagon's poorly documented military aid programs, and it's clear that the DoD believes it has something to hide.
A well in the western Indian state of Gujarat is mobbed during a 2003 drought. (Reuters/Amit Dave)
In 2015, NASA's satellite data revealed that 21 of the world's 37 large aquifers are severely water-stressed. With growing populations, and increased demands from agriculture and industry, researchers indicated that this crisis is only likely to worsen.
Rajendra Singh, known as the "water man of India," believes that critically depleted aquifers around the world can be revived with community effort. For the past 32 years, through his NGO Tarun Bharat Sangh (Young India Organization), Singh has led community-based water harvesting and water management initiatives in the Alwar district of Rajasthan, an arid, semi-desert state in the northwest of India. For his work, Singh was awarded the Ramon Magsaysay Award for community leadership in 2001, and the Stockholm Water Prize in 2015.
The following interview with Singh has been edited for clarity:
A report ranking cities most at risk from coastal flooding is a stark reminder that the paradigm of economic development and prosperity no longer holds true
From inundated homes, shops and roads, to fresh water pollution and sewage being forced upwards, the impacts are widespread. In a Christian Aid report (pdf) published last week, Miami ranked ninth in a list of cities most at risk from future coastal flooding as a result of sea level rises. Supported by data from the Intergovernmental Panel on Climate Change, projections for the year 2017 suggest that Kolkata and Mumbai, both in India, are most exposed to coastal flooding. Bar Miami, the top ten cities are all in Asia.
As global water levels rise, as parts of Florida experience the heaviest rain since records began, as the flooding and salination of farmland in Bangladesh increases, the risk to coastal cities can be seen for what it is – a sign of the apparently inexorable effects of a high-carbon economy on a fragile environment.
But what is also clear from the Christian Aid research is how ecological disaster intensifies inequality. In prosperous nations it is the poorest who are most at risk from environmental changes such as those Miami faces because they have the least means to cope with or move away from the problem. In developing countries, coastal cities and their surrounding regions have even less in the way of defence.
It's enough to make you sick.
In its article titled, How Corporate America Bought Hillary Clinton for $21M, The New York Post details the companies and organizations that paid Hillary in speaking fees from 2013-2015.
The total comes to $21.7 million, which is a remarkable sum for one of the least charismatic and unimaginative orators the world has ever known.
Credit: Mr. Fish
John Prescott, who approved UK's tallest residential building, speaks out after Guardian reveals a quarter of flats in it are held by offshore firms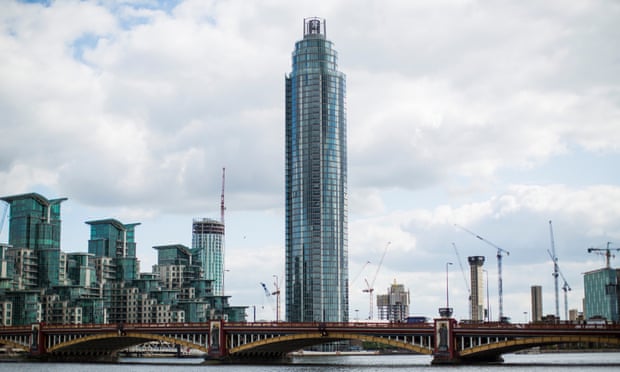 The 50-storey block of 214 luxury apartments by the river Thames at Vauxhall. Photograph: Jack Taylor/Getty Images
Owners of properties in the high rise include a billionaire Russian oligarch, the chairman of a defunct Nigerian bank and a Kyrgyz vodka tycoon. A quarter of the flats are held by companies in secretive offshore tax havens and several owners said their neighbours spent little time in their homes, which sold for #2.2m on average.
The revelations about the Tower are likely to be seized on by campaigners and politicians as the starkest example yet of the housing crisis gripping the capital, in which new homes are sold abroad as investments and left largely empty while fewer and fewer young people can afford to buy or rent in the city.
The bombshell recordings, released by the Folha de São Paulo newspaper on Monday, includes the newly appointed planning minister, Romero Jucá, saying that a change in government is needed to "stop the bloodletting" from the inquiry.
The two-year judicial investigation into systematic bribes for contracts with the state-run oil giant Petrobras has implicated dozens of top politicians. These include Jucá, as well as six other ministers among the 23-person cabinet named by acting president Michel Temer.
Temer assumed the presidency on May 12 immediately after the senate voted to suspend Rousseff for 180 days while she stands trial over allegations she manipulated national accounts to hide deficits before her reelection two years ago. Temer was her vice president.
Rousseff and her supporters insist the suspension, and the impeachment process in general, is a "coup" orchestrated by right-wing politicians accused of much more serious crimes.
Washington and Seattle, Nairobi and Lagos, Manchester and Belfast are all included in the final list of member cities as 100RC programme reveals it has had more than 1,000 applications since 2013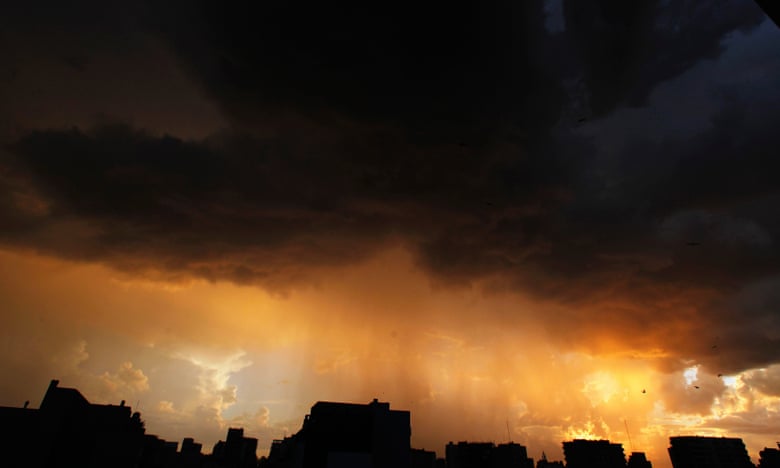 A storm approaches Buenos Aires. Photograph: Marcos Brindicci/Reuters
Less than three years after its launch, the Rockefeller Foundation's 100 Resilient Cities programme has reached a notable landmark, with the announcement of its third and final tranche of members – taking this global initiative up to its full quota of 100 cities.
With fast-growing megacities such as Lagos, Jakarta, Seoul and Nairobi among the 37 revealed today in a joint launch in the Kenyan capital and Washington DC, the multimillion dollar programme looks to be tackling the most ambitious and difficult aspects of "building resilience" (a phrase describing the process of discovering how multiple shocks and stresses are interlinked and related).
"Incorporating resilience planning and principles not only prepares cities for disasters and long-term threats," says Judith Rodin, president of the Rockefeller Foundation, which also supports Guardian Cities. "It also improves everyday living standards for all members of an urban community."
A further eight American cities have joined the list today, including Washington DC, Seattle, Atlanta and Honolulu, meaning that, in all, one quarter of the 100 Resilient Cities are from the US. Three more Canadian cities – Vancouver, Toronto and Calgary – join Montreal in what has been a deliberate attempt to create mutually beneficial "hubs of experience" in certain countries around the world.
As the daughter of one of the Exxon scientists who first told senior management about greenhouse gases in the 1970s, I find it ironic that the reason for these investigations is the company's failure to follow the same hard-numbers approach that made Exxon so successful in the first place.
My father, James F Black, PhD, started working for Standard Oil (part of which later became Esso and then Exxon) during the second world war. He had a distinguished career over 40 years, garnering dozens of patents through his wide-ranging research.
In 1977, he briefed some of Exxon's top executives about the risks of burning fossil fuels. A year later, in recapping his presentation in an internal company memo, he wrote: "Present thinking holds that man has a time window of five to ten years before the need for hard decisions regarding changes in energy strategies might become critical."
By the end of that 10-year window, however, company executives had started ignoring science, cancelling research projects and investing in "spin". They poured millions of dollars into advocacy groups and public relations campaigns designed to cast doubt on the scientific realities of climate change. As Exxon entered this period, my father would lament: "A company is in trouble when it falls into the hands of the accountants."
Physicist Klaus Lackner has long advocated deploying devices that extract carbon dioxide from the atmosphere to combat climate change. Now, as emissions keep soaring, Lackner says in a Yale Environment 360 interview that such "air capture" approaches may be our last best hope.