Andrew Yang breaks down the biggest challenges he'd take on as president, including the climate crisis, crumbling infrastructure, and how AI and automation will fundamentally change the global economy.
"Biden not only pushed to cut Social Security—he is on tape proudly bragging about it on multiple occasions," said Sanders campaign manager Faiz Shakir in response to accusations by the former vice president.
Democratic presidential candidate, former U.S. Vice President Joe Biden speaks at the Iowa State Educators Association (ISEA) forum at the Sheraton West Des Moines Hotel on January 18, 2020 in West Des Moines, Iowa. (Photo: Spencer Platt/Getty Images)
Carol Leonnig and Philip Rucker, Pulitzer-winning Washington Post reporters, have produced a vital and alarming read
While the Senate mulls his fate, the president plans to speak to world economic leaders every bit as impeachable as him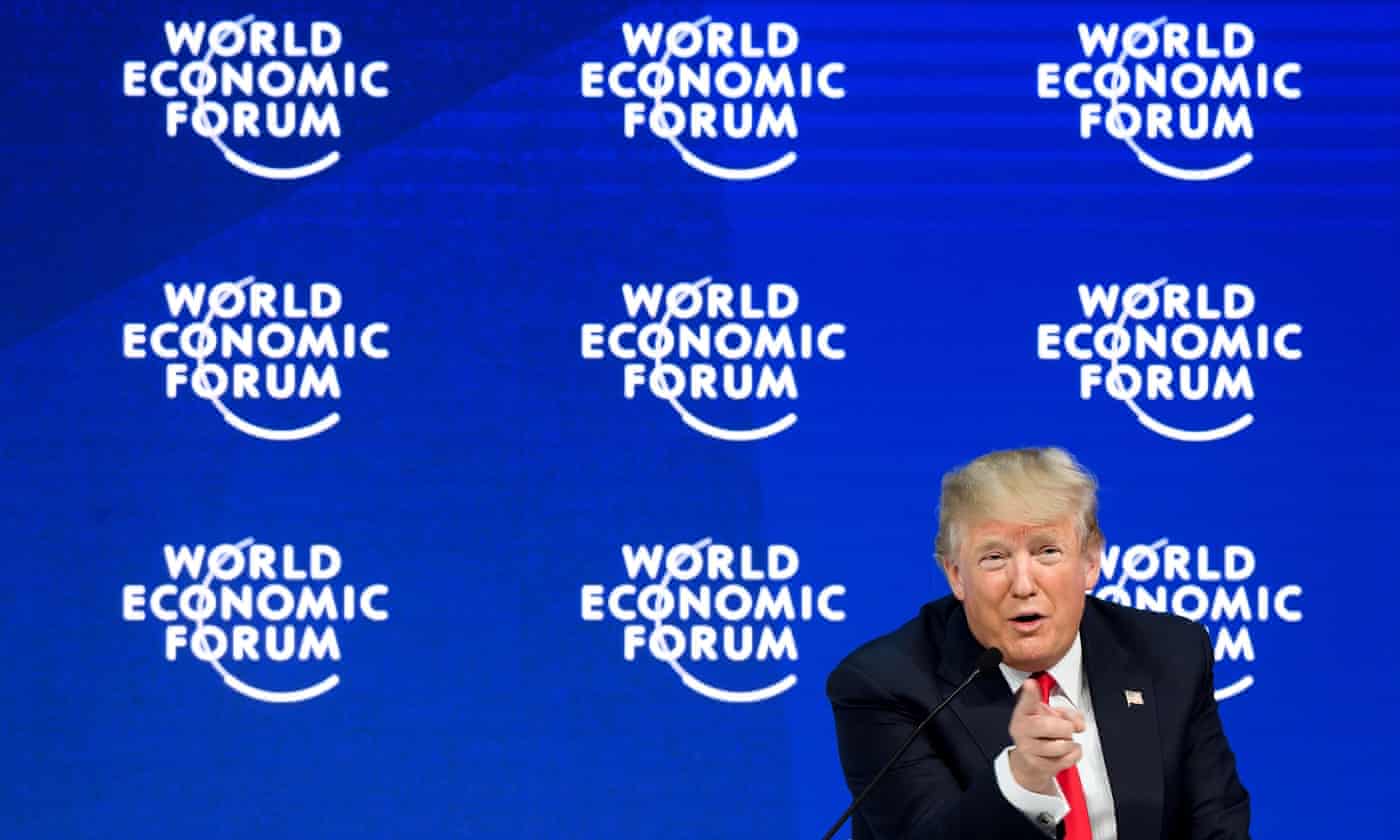 'Trump plans to speak at Davos, by the way. He'll probably boast about the stock market, bully and lie, as usual.' Photograph: Fabrice Coffrini/AFP via Getty Images
As the Senate debates Donald Trump's future, chief executives, financiers and politicians will descend on Davos in the Swiss Alps for their annual self-congratulatory defense of global capitalism.
The events are not unrelated. Trump is charged with abusing his power. Capitalism's global elite is under assault for abusing its power as well: fueling inequality, fostering corruption and doing squat about climate change.
Chief executives of the largest global corporations are raking in more money and at a larger multiple of their workers' pay than at any time in history. The world's leading financiers are pocketing even more. The 26 richest people on Earth now own as much as the 3.8 billion who form the poorer half of the planet's population.
Concentrated wealth on this scale invites corruption. Across the world, big money is buying off politicians to procure favors that further enlarge the wealth of those at the top, while siphoning off resources from everyone else.
Corruption makes it impossible to fight stagnant wages, climate change or any other problem facing the vast majority of the world's population that would require some sacrifice by the rich.
Popular anger is boiling over against elites seen as irredeemably greedy, corrupt and indifferent
Popular anger is boiling over against elites seen as irredeemably greedy, corrupt and indifferent to the plight of most people struggling to get by. The anger has fueled uprisings in Chile, Spain, Ecuador, Lebanon, Egypt and Bolivia; environmental protests in the UK, Germany, Austria, France and New Zealand; and xenophobic politics in the US, the UK, Brazil and Hungary.
Trump's support comes largely from America's working class whose wages haven't risen in decades, whose jobs are less secure than ever and whose political voice has been drowned out by big money.
Although Trump has given corporations and Wall Street everything they've wanted and nothing has trickled down to his supporters, he has convinced those supporters he's on their side by channeling their rage on to foreigners, immigrants, minorities and "deep state" bureaucrats....
The Chief Justice serves for life shielded from partisan pressures. As a way to dispel combustible suspicions of bias, life tenure makes him the optimal choice for presiding over—and setting the rules for—the trial.
Photo: U.S. House of Representatives
....Trump's impeachment articles have two counts: First, abuse of power by manipulating foreign policy for personal gain, and second, obstruction of Congress by wholesale stonewalling. House Republicans essentially used the second count to negate the first. By seizing on tiny gaps in the evidentiary record — gaps that existed because Trump refused to release any testimony or documents — they denied Trump had withheld a meeting and military aid from Ukraine in order to force investigations.
Since then, evidence, some pried loose by lawsuits, has dismantled those defenses. A batch of emails released in late December showed the Office of Management and Budget ordered a freeze on aid almost immediately after Trump's phone call with Ukraine's president. Then, in January, another tranche of emails found the Defense Department raising concerns about the freeze's legality. Weeks later, the Government Accountability Office deemed the freeze illegal, making moot the defense that Trump hadn't technically violated laws. Also this month, former national-security adviser John Bolton, who had refused to testify before the House, announced his willingness to testify in a Senate trial.
The most explosive revelations came from a trove of documents turned over by Lev Parnas, a small-time hustler who was recruited by Rudy Giuliani to help run Trump's extortion scheme. Parnas's documents — thousands of pages of texts, WhatsApp messages, notes, and letters — widen the scope of suspected misconduct in Ukraine. They show him explicitly discussing firing the U.S. ambassador, Marie Yovanovitch, in return for then Ukrainian prosecutor general Yuriy Lutsenko's supplying dirt on Biden, whom Lutsenko describes frankly and revealingly as "your opponent."...