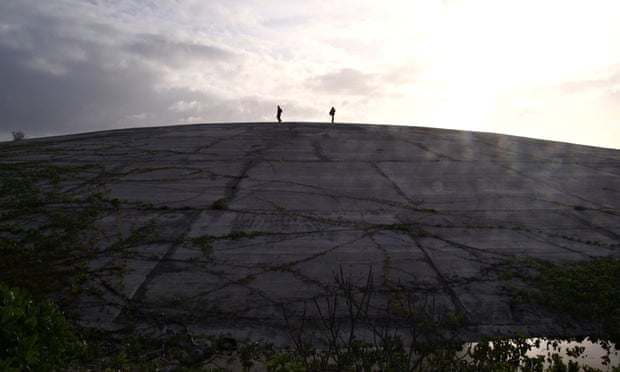 Runit Dome in the Pacific islands houses 111,000 cubic yards of radioactive waste. Photograph: Guardian
The Runit Dome in the Marshall Islands is a hulking legacy of years of US nuclear testing. Now locals and scientists are warning that rising sea levels caused by climate change could cause 111,000 cubic yards of debris to spill into the ocean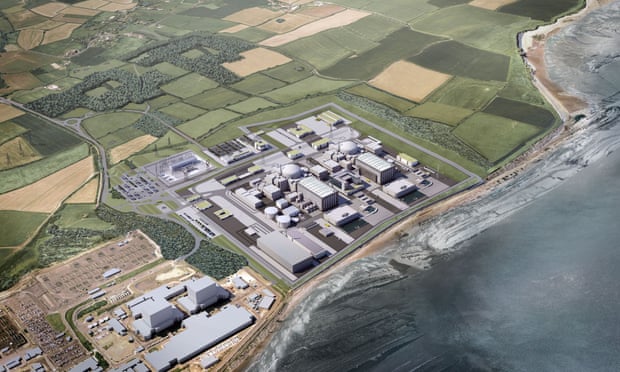 An artist's impression of how the new Hinkley Point C station would look. A law suit against 'boundless nuclear subsidies' for the project is to be filed within days. Photograph: HayesDavidson/EDF Energy/PA
Greenpeace and nine German and Austrian utilities selling renewable energy said on Thursday they are launching legal action against state aid for a new British nuclear power plant, which was approved by the European commission.
Immediate, serious efforts to curb carbon pollution are needed to minimize ocean ecosystem changes
Former environment minister believes the cult of unfettered economic growth has been ruinous for India's environment, reports Yale Environment 360
The Pope combines science, morality and politics.
Moral questions are not the same as practical questions. But the fate of the earth in the face of global warming is so practical a question that it becomes a moral one. That is the lens through which to read the Pope's Encyclical.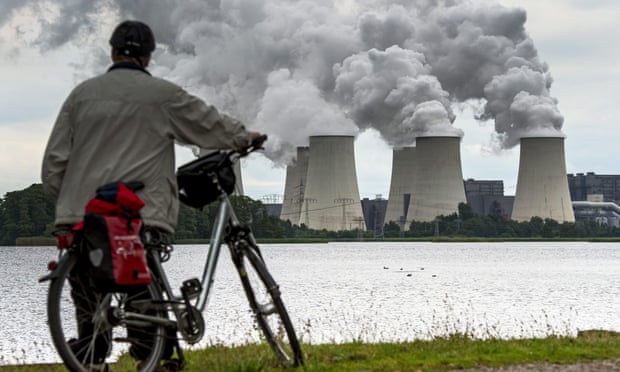 Water steam rises from the cooling towers of a brown coal power station in Germany. Such plants with a total capacity of 2.7GW will be mothballed. Photograph: Patrick Pleul/EPA
Levy on most polluting power stations is scrapped, but largest brown coal-fired plants will be shuttered as Germany moves to cut emissions 40% by 2020
Government also urged to sign up to further cuts of 40-60% by 2030 ahead of Paris climate talks, in effort to catch up to other countries
As market forces chip away at the coal industry, many plants are being repurposed as data centers, museums, and mixed-use neighborhoods.
Studies on mice show two existing medicines could help restore protein production in brain and prevent memory loss, speeding up search for cure
In 2010, Godelieva's boyfriend broke up with her, and her mood became 'black' again. She stopped wearing makeup and doing her hair, and she cancelled dates with friends, she said, because she felt ugly and old. She felt that she had lost her levensperspectief, a Dutch word that refers to the sense that there is something to live for.
---
Though Canada's system is the second most expensive in the world per capita, it would save America $1.3 Trillion/yr and cover everyone
Dr. Peter Bach: Medicare has to pay exactly what the drug company charges. Whatever that number is.
Lesley Stahl: Wait a minute, this is a law?
Dr. Peter Bach: Yes.
Lesley Stahl: And there's no negotiating whatsoever with Medicare?
Dr. Peter Bach: No.
[All other OECD countries negotiate much lower drug & medical procedure costs]
For things to have reached such a pass – in which Greeks are being asked to select yes for organised penury or no for the chaotic variety – is surely an indictment of the single currency. Any scheme that can result in such a crisis – to say nothing of the stagnant growth, unemployment and poverty that have plagued much of the eurozone since the crash – is bound to be branded an unambiguous failure. What's more, it is now acting as a repellent for the European idea itself: witness the rise of populist anti-EU parties in Spain, Italy and beyond.

That prompts a question, one that will only get sharper whether the Greeks leave the euro and descend into economic mayhem or stay and suffer back-breaking debt repayments. Is the disaster of the euro strangling the larger European project it was meant to serve? Could it be time to kill off the euro in order to save the European Union?

The Germans insist on a tough austerity program in order to continue aiding Greece. Syriza says it understands the need to get the country's financial house in order, but demands the flexibility to do so in a way that it feels is right. Whether Greece's voters have truly had enough of Germany's mandates will be revealed Sunday. Here's a guide to the data on why Germany and Greece are such different countries, among the factors that have made it difficult for them to see eye-to-eye on the most important questions facing Europe.

President Cristina Fernández de Kirchner's suggestion that Argentina's poverty rate has been cut to less than 5% rings false with experts and locals alike

Known as "villas miserias" – literally, "slums of misery" – the sprawls of redbrick shacks that punctuate the Parisian-style architecture of the Argentinian capital have become synonymous with violence.

These marginal neighbourhoods have little or no state presence to oppose the growing influence of drug cartels. Despite often being located in urban centres, most residents do not have access to mains electricity, running water or sewers.

In 2013, the NGO Techo identified 1,834 of these informal settlements across Argentina, saying they were home to 500,000 families. In Buenos Aires alone, the number of people living in villas miserias grew by about 50% between 2001 and 2010.

Despite broadly similar views about the overall place of science in America, there are striking differences between the views of the public and those of the scientific community connected to the American Association for the Advancement of Science (AAAS) on a host of science-related issues, from whether genetically modified foods are safe to eat to whether the world's growing population will be a major problem. See how their views differ by clicking on the topics below.

Eurotunnel services disrupted after about 150 migrants try to enter restricted areas of terminal in Calais

The EU claims it will create millions of jobs and bring down the cost of living – but others say it is a threat to public services such as the NHS

Most papal encyclicals are addressed only to Roman Catholics, but this one is addressed to the world. And while its main focus is considered to be climate change, its 184 pages cover much more than that. Among other sweeping reforms, it calls for a radical overhaul of the banking system. It states in Section IV:

Today, in view of the common good, there is urgent need for politics and economics to enter into a frank dialogue in the service of life, especially human life. Saving banks at any cost, making the public pay the price, forgoing a firm commitment to reviewing and reforming the entire system, only reaffirms the absolute power of a financial system, a power which has no future and will only give rise to new crises after a slow, costly and only apparent recovery. The financial crisis of 2007-08 provided an opportunity to develop a new economy, more attentive to ethical principles, and new ways of regulating speculative financial practices and virtual wealth. But the response to the crisis did not include rethinking the outdated criteria which continue to rule the world.

. . . A strategy for real change calls for rethinking processes in their entirety, for it is not enough to include a few superficial ecological considerations while failing to question the logic which underlies present-day culture.

Ferrybridge, Eggborough and Drax Coal-fired power stations, in Yorkshire, England. Photograph: Paul White Aerial/Alamy

Governments urged to rethink plans for new coal-fired power plants as study estimates they will release more than 500bn tonnes of carbon dioxide by 2050

Relentless local protests and a damning report have dealt a double blow to a fledgling fracking industry, but the companies aren't going to go away

Increase in solar installations and good weather means UK is sourcing 16% of its electricity from sunshine on Friday afternoon, industry claims

No wonder so many people are quitting the capital. Overpriced, overcrowded, no good olive shops – and it's not even original

Zarif says there will be opportunities for Iran and the US to cooperate if a deal is cut on the nuclear issue

Veteran pilot tested to the limit of endurance on record-breaking solar-powered flight across the Pacific, on the eighth leg of round-the-world journey
The Caribbean territory, whose residents are US citizens, is groaning under $73bn debt forcing it to ration water, close schools and watch its health system collapse

Democratic presidential hopeful hails 'little bit of history' with strong turnout on the turf of Scott Walker, who is seeking Republican nomination

The most popular and least effective governors all want a promotion. Let's examine their records

The Ku Klux Klan plans to hold a pro-Confederate flag rally at South Carolina's capitol, where a statue of a former state governor who championed white supremacy was vandalized on Tuesday amid scrutiny of symbols associated with slavery.

New York City's struggle with affordable rental housing is part of a nationwide trend that has seen rental housing costs skyrocket in recent years as the housing market has mostly recovered from the 2008 recession, which was in part fueled by real estate speculation and Wall Street aggressively repackaging and reselling risky high-interest mortgages.

According to a new study by Harvard University's Joint Center for Housing Studies, vast stretches of the county are facing a rental housing crisis marked by big rent spikes. "The number of cost-burdened renters [paying more than 30 percent of incomes]... set a new high in 2013 of 20.8 million, totaling just under half of all renter households," Harvard researchers found. "Although the number of severely burdened renters edged down slightly, the number of moderately burdened renters climbed by a larger amount."

Most low to moderate income households are feeling a very big pinch. The researchers said that 80 percent of households with annual incomes under $15,000, three-quarters of renters with incomes up between $15,000 and $29,999, and 45 percent of households earning up to $44,999, are all "severely burdened," with non-whites and single mothers facing the greatest financial stress.

The Alaskan Way Viaduct is coming down, and a vast new park system is coming up.

Witnesses say more than 50 militants descended on Kukawa village, firing on worshippers praying in mosques during Ramadan and moving on to houses

Former US secretary of state's private correspondence expose the intimacy of relations between the Clintons, the Blairs and Qatar's ruling Al-Thani family

Revelations that Cherie Blair secretly lobbied Hillary Clinton on behalf of a fabulously wealthy royal from an authoritarian Gulf state are likely to be seen, at least by conspiracy theorists, as further evidence that a handful of individuals who wield power behind the scenes through personal connections actually runs the world.

In other words, it is not what you know but who you know that really counts.

Blair's ingratiating and unctuous entreaties, revealed after the US courts forced Hillary Clinton to divulge private emails sent and received while she was secretary of state, will not surprise those who have seen her in action on London's diplomatic circuit, where she was a seasoned networker and glad-hander.

The bigger picture the emails illuminate is the intimate and intricate web of relationships between three of the world's most powerful political families – the Clintons, the Blairs, and the Al-Thanis, who run oil and gas-rich Qatar.

Jihadi group claims to have 'total control of many sites' in northern Sinai after wave of attacks in which up to 40 Egyptian soldiers were killed

Video issued from Isis stronghold in Syria is rare public challenge to Hamas, which has been cracking down on jihadis who oppose its truces with Israel

"It's like death, this load shedding," Ms. Ngwenya, 45, said, referring to the blackouts imposed by South Africa's state utility to prevent a collapse of the national electricity grid.

With winter here in South Africa, the worst blackouts in years are plunging residents into darkness in poor townships and wealthy suburbs alike. The cutoffs have dampened South Africa's economy, Africa's second biggest, and are expected to continue for another two to three years.

Nicholas Winton, a Briton who said nothing for a half-century about his role in organizing the escape of 669 mostly Jewish children from Czechoslovakia on the eve of World War II, a righteous deed like those of Oskar Schindler and Raoul Wallenberg, died on Wednesday.

It was only after Mr. Winton's wife found a scrapbook in the attic of their home in 1988 — a dusty record of names, pictures and documents detailing a story of redemption from the Holocaust — that he spoke of his all-but-forgotten work in the deliverance of children who, like the parents who gave them up to save their lives, were destined for Nazi concentration camps and extermination.

After five years, three elections, two bailouts worth $240bn and one ever deepening crisis, Greece is heading for a crunch point on Sunday with a referendum on accepting the austerity measures proposed by its creditors. We asked Greeks for their view on the troika, the tumult - and whether they want to stay in the eurozone

In a sneering & self-righteous segment earlier this week, an O'Reilly producer accosted homeless people in NYC

By joining the eurozone countries put themselves into an economic straitjacket. Finland had a very severe economic crisis at the end of the 1980s — much worse, at the beginning, than what it's going through now. But it was able to engineer a fairly quick recovery in large part by sharply devaluing its currency, making its exports more competitive. This time, unfortunately, it had no currency to devalue. And the same goes for Europe's other trouble spots.

Rather than promoting political unity, Milton Friedman argued, "the adoption of the Euro would have the opposite effect. It would exacerbate political tensions by converting divergent shocks that could have been readily accommodated by exchange rate changes into divisive political issues."

Friedman's predictions look prescient now, though they didn't at first. When Greece adopted the euro in 2001, it benefited enormously by suddenly being able to borrow far more than it should have ever been allowed to. But this wild, boom-time overborrowing left it destitute when credit and demand dried up during the financial crisis. Thanks to the currency union, Greece no longer had the means — currency devaluation — to inflate away its debts and export its way out of a deepening recession. Instead, its euro-zone family members — particularly Germany, the effective patriarch — insisted on keeping inflation in the shared currency ultra-low, which was precisely the opposite of what Greece needed.

The euro crisis is all about power and nothing about money, Stiglitz says

It is hard to advise Greeks how to vote on July 5. Neither alternative – approval or rejection of the troika's terms – will be easy, and both carry huge risks. A yes vote would mean depression almost without end. Perhaps a depleted country – one that has sold off all of its assets, and whose bright young people have emigrated – might finally get debt forgiveness; perhaps, having shriveled into a middle-income economy, Greece might finally be able to get assistance from the World Bank. All of this might happen in the next decade, or perhaps in the decade after that.

By contrast, a no vote would at least open the possibility that Greece, with its strong democratic tradition, might grasp its destiny in its own hands. Greeks might gain the opportunity to shape a future that, though perhaps not as prosperous as the past, is far more hopeful than the unconscionable torture of the present.

I know how I would vote.

The former secretary of labor reflects on the Supreme Court's landmark housing discrimination ruling

In a 5-4 ruling, the Court found that the Fair Housing Act of 1968 requires plaintiffs to show only that the effect of a policy is discriminatory, not that defendants intended to discriminate.

The decision is important in the fight against economic apartheid in America – racial segregation on a much larger geographic scale than ever before.

The decision is likely to affect everything from bank lending practices whose effect is to harm low-income non-white borrowers, to zoning laws that favor higher-income white homebuyers.

---