Heather Bresch, whose father is U.S. Sen. Joe Manchin, D-W.Va., became president of Mylan Pharmaceutical in 2009 and CEO in 2012. She is no stranger to controversy: She moved Mylan's headquarters to the Netherlands last year after a corporate "inversion" merger with Abbott Laboratories.
The move enabled the company to operate its headquarters in the U.S. but maintain corporate citizenship in Holland, benefiting from a lower tax rate.
But the EpiPen scandal, sparked by a sudden price hike, could cause more trouble for the company, its CEO, and her lawmaker father. This week, Sen. Amy Klobuchar, D-Minn., ranking member of the Senate Judiciary Committee's Antitrust Subcommittee, demanded hearings on the EpiPen's 450 percent price increase in just seven years.
The cost of a two-pack of EpiPens — shots of epinephrine that relieve symptoms from severe allergies that restrict breathing and can cause death — has risen from $103.50 in 2009 to $608.61 today, despite no changes in the chemical formula. Two vials of the proper dosage of epinephrine and manual syringes would cost only $20; some put the cost of the dosage in each EpiPen at as little as $1.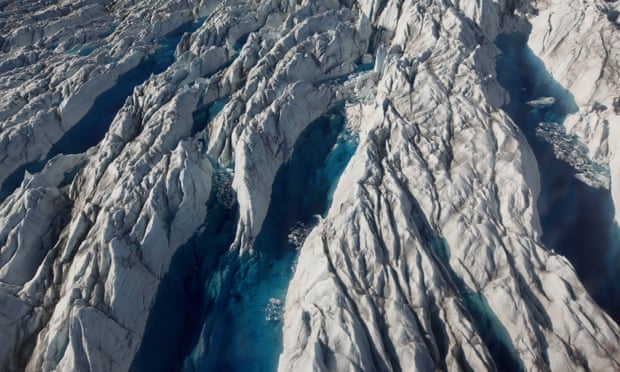 Pools of melted ice form atop Jakobshavn Glacier, near the edge of the vast Greenland ice sheet. Photograph: Brennan Linsley/AP
In total, the study estimates approximately 270 gigatons of ice loss per year for 2011–2014. This result is almost a perfect match to independent measurements made by other researchers and builds our confidence in their conclusions. To put this in perspective, the Greenland Ice Sheet, alone, is losing approximately 110,000 Olympic size swimming pools worth of water each year.
An anthrax outbreak in Russia came from a 75-year-old caribou carcass thawing out. This is only the beginning of this sort of thing happening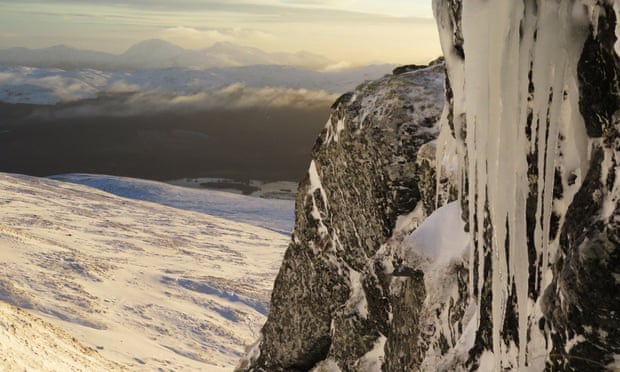 'In addition to releasing ancient microbes, melting layers of permafrost also release methane, a greenhouse gas 30 times more potent than carbon dioxide, that in turn causes further warming.' Photograph: Murdo Macleod for the Guardian
Ebola exposed the weakness of Liberia's health system but some clinics are now offering more effective diagnosis and streamlined services
With food insecurity affecting 4.4 million people and creating a fertile breeding ground for Boko Haram, Nigeria needs help from the international community
Research predicts African children will account for 43% of global poverty by 2030, although absolute number of poor will fall
Half of the student population in India's capital suffer abuse, a taboo subject in many homes. Now police are visiting schools to encourage children to report it
The state's maternal death rate is the highest in the developed world. Those denying women reproductive healthcare on ideological grounds are to blame
When it comes to women's progress, the United States doesn't exactly bring home the gold. We rank 72nd in women's political participation, with women holding less than 20% of congressional seats. Paid maternity leave? The United States comes in last. But at long last, we're number one at something: Texas has the highest maternal mortality rate in the developed world.
This dubious honor is a recent one, with a study showing that the rate of women dying from pregnancy complications doubled from 2010-2014. It's not a coincidence, of course, that there was another major happening around women's health in Texas during those years: the deliberate closure of clinics that provide abortion and a drastic funding cut to the state's family planning budget.
As my colleague Molly Redden points out, Texas gutted the state's family planning budget by more than $73m in 2011, forcing clinics to shut down and dramatically reducing the number of women they could provide services to. By 2014, 600 women had died from pregnancy-related complications.
It's almost as if what feminists have been saying for years is true: limiting reproductive rights hurts women across the board. Access to reproductive care is necessary not just to prevent or end pregnancies, but to ensure healthy outcomes for those who choose to carry their pregnancies to term.
Sarah Wheat of the Planned Parenthood of Greater Texas told the Dallas Morning News that these clinics were "an entry point into the health care system" for many women, especially those with fewer resources.
As America grapples with a heroin epidemic, Portugal serves as an example of how to curb addiction to illicit drugs without relying on mass incarceration.
By systematically moving to decriminalize all drugs, from marijuana to heroin, Portugal has successfully reduced their addiction rate by roughly 50 percent. In Portugal, addiction is seen not as a crime to punish, but as a public health crisis that should be addressed holistically.
In 2001, addiction was so rampant in Portugal that roughly 0.7 percent of 10.36 million Portuguese citizens, or 72,530 people, had used heroin at least once. Other than England and Wales, Portugal was the most addicted nation in Europe. The government commissioned a panel of doctors, psychologists, lawyers, and activists to determine the best solution for tackling the addiction crisis. The panel recommended full decriminalization of every drug. 15 years later, the results are obvious — decriminalization works.
Study of infants and foetuses in Brazil reveals extent of brain damage caused by mosquito-borne virus
A new report shows in graphic detail the kind of damage Zika infections can do to the developing brain – damage that goes well beyond microcephaly, a birth defect in which the baby's head is much smaller than normal.
Previous investigations fail to reveal impact of 'world's largest human health threat' because they do not account for people's movement, researchers say
---
Reference:
....Researchers, Eicke Latz at the University of Bonn and colleagues, followed up on the parents' hypothesis and found that in mice, cyclodextrin indeed blocked plaque formation, melted away plaques that had already formed in arteries, reduced atherosclerosis-associated inflammation, and revved up cholesterol metabolism—even in rodents fed cholesterol-rich diets.
A growing body of evidence suggests pollution can do a number on the brain. The July/August Mother Jones cover story chronicled the research connecting neurodegenerative diseases like Alzheimer's and Parkinson's to the dirty air we breathe; studies have found that pollution may also age the brain prematurely. And according to new research from the University of Texas-El Paso, pollution's damage to the brain may start even sooner than was previously thought: Fourth and fifth graders exposed to exhaust emissions, researchers found, don't do as well in school as their peers who breathe cleaner air.
Though Canada's system is the second most expensive in the world per capita, it would save America $1.3 Trillion/yr and cover everyone
[All the other OECD countries negotiate much lower drug & medical procedure costs]
Investigation by the Guardian and 38 Degrees reveals NHS faces £20bn funding shortfall by 2020-21 if no action is taken

The NHS cost-cutting shake-up is being overseen by NHS England. Photograph: David Levene for the Guardian

Steve Cowan, leader of Hammersmith and Fulham council said: "This is about closing hospitals and getting capital receipts. It's a cynical rehash of earlier plans. It's about the breaking up and selling off of the NHS. It will lead to a loss of vital services and will put lives at risk." He added: "Our job is to protect the NHS and this plan is about dismantling it."

Laura Townshend, of 38 Degrees, said: "This is new evidence that plans are being made to close local NHS services. We all rely on these services, yet we are being kept in the dark.

"These proposed cuts aren't the fault of local NHS leaders. The health service is struggling to cope with growing black holes in NHS funding. These new revelations will be a test of Theresa May's commitment to a fully-funded National Health Service.

Civilians are paying the price for the competing interests of parties to the conflict

Turkish tanks near the border with Syria, a day after Turkey's incursion. 'If things already seemed complicated in the Middle East, they may have just become even more so.' Photograph: Ismail Coskun/AP

Syria is racked by multiple wars in which protagonists claiming to share common goals pursue their own distinct priorities. Turkey is part of the anti-IS coalition but wants to fight Kurdish militants in Syria as it does the PKK in its own south-eastern regions. Its role has shrunk from active intervention on multiple fronts to more narrowly defending its border. Even the renewed enthusiasm for Syrian rebels is not about toppling Mr Assad, but ensuring that the Kurds do not prop him up. Russia claims its military involvement is all about combatting Isis but has done much more to ensure the survival of the Assad regime. Syrian Kurdish groups have been "recruited" by the US against Isis, but their ultimate goal is to carve out an autonomous region. Anti-Assad revolutionaries have all along wanted to get rid of a dictatorship but are increasingly associated with radical Islamist groups, largely for a desperate lack of other options. The US has prioritised bombing Isis but at the expense of forging a solution to Syria's civil war, which has helped Isis grow. With its tanks, Turkey has played one more card in a multi-pronged war that has created immense suffering and has no end in sight.

Advertisers are deserting newspapers. Using the impact of television advertising on print media in 1968, this column argues that a reduction in advertising revenues will reduce the quality of newspapers. Ultimately, this may result in a less well-informed public.

Charles Angelucci and Julia Cagé |

VoxEU

Years of number crunching that had seemed to corroborate the climate benefits of American biofuels were starkly challenged in a science journal on Thursday, with a team of scientists using a new approach to conclude that the climate would be better off without them.

Based largely on comparisons of tailpipe pollution and crop growth linked to biofuels, University of Michigan Energy Institute scientists estimated that powering an American vehicle with ethanol made from corn would have caused more carbon pollution than using gasoline during the eight years studied.

Most gasoline sold in the U.S. contains some ethanol, and the findings, published in Climatic Change, were controversial. They rejected years of work by other scientists who have relied on a more traditional approach to judging climate impacts from bioenergy — an approach called life-cycle analysis.

U.S. Judge James Boasberg said he would make a decision by September 9 on whether to halt work on the controversial Dakota Access Pipeline

'It is abundantly clear that fracking is harming people, and the only solution is to stop fracking'

Researchers from the Johns Hopkins Bloomberg School of Public Health reported their findings online in the journal Environmental Health Perspectives, saying their research adds to "a growing body of evidence linking the fracking industry to health problems."

The study was based on a survey of 7,785 adult primary care patients of the Geisinger Health System, a healthcare provider that covers 40 counties in north and central Pennsylvania. With the Marcellus Shale running below most of Pennsylvania, the northeastern and southwestern parts of the state have become ground zero for drilling.

According to a press statement from Johns Hopkins, the researchers found that 1,765 respondents (23 percent) suffered from migraines; 1,930 people (25 percent) experienced severe fatigue; and 1,850 (24 percent) had current symptoms of chronic rhinosinusitis, defined as three or more months of nasal and sinus symptoms.

Nobel laureate says Obama's push to get lawmakers to pass deal during lame-duck session of Congress is "absolutely wrong"

Oliver was targeted by privatizers after criticizing charter schools in a segment of his HBO show

What do an education historian and a late-night comedian have in common?

Shared opposition to the fraud and abuse associated with charter schools and other privatization efforts, of course.

On Thursday, longtime educator and activist Diane Ravitch encouraged her readers to start a campaign of thanks to comedian John Oliver, who devoted a segment of his HBO show Last Week Tonight on Sunday to charter schools and fraud—and is now being targeted by privatizers and other corporate propagandists on Twitter.

None of Oliver's critics seriously refuted the crux of his argument that there might be something fundamentally wrong by design, rather than by implementation or intent, with the idea that a "free market" of privately operated and essentially unregulated schools is a surefire way to improve education opportunities for all students. (Screenshot: YouTube/HBO)

For some time now, I've reported on the alarming spread of charter school scandals in these states, and elsewhere, in numerous articles for Salon. So very little of what Oliver exposes is new to the public. But because of the reach of HBO, Oliver's international popularity, and his ability to turn serious subjects into very funny – even if upsetting – material, advocates in the charter industry mustered a strong defense with numerous blogposts and press releases calling Oliver's anecdotes "outdated," his treatment of charters "uninformed" and unfair, and his opinions too disinterested in the needs of parents, especially from communities of color.

None of Oliver's critics seriously refuted the crux of his argument that there might be something fundamentally wrong by design, rather than by implementation or intent, with the idea that a "free market" of privately operated and essentially unregulated schools is a surefire way to improve education opportunities for all students.

The charter industry is currently responsible for educating a small percentage of students – just 6–7 percent nationally and barely measurable in many communities, especially more well-to-do metropolitan and rural areas. A minority of Americans and relatively few politicians completely understand what charter schools are. And most experts have mixed views on the purpose of the schools.

However, what charter advocates generally won't admit is that many of the problems these schools cause are reflective of what inevitably seems to happen when an essential public service is privatized.

The charter industry claims its schools are "public" institutions because they get tax dollars, but that's like saying a defense contractor is a public business because it takes in revenues from the federal government.

Numerous experts point out charter schools blur the line from what it means to be a public institution providing a public good and that, by their very design, they expand opportunities to profiteer from public tax dollars and privatize public assets.

People in communities affected by these schools are just beginning to see the conflicts these institutions cause, and it's just a matter of time before government officials at all levels are forced to respond to the increasing concerns with these schools.

Plaintiffs say privately-run, publicly-funded, corporate institutions do not qualify as "free" schools and shouldn't get taxpayer money

'Gerrymandering pits political power against the people, regardless of which party holds power'

A panel of federal judges on Wednesday advanced what an expert says could be "the biggest gerrymandering case in a generation"—one that could have nationwide implications for elections and democracy across the United States.

The three-judge court ruled 2-1 (pdf) that the First Amendment-based claim against partisan gerrymandering regarding Maryland's sixth congressional district is valid and may proceed, either to summary judgment or trial. The ruling has no bearing on voting this November, and a decision would apply only to future elections.

New York Gov. Andrew Cuomo's administration this week said General Electric had not adequately cleaned up its pollution from the Hudson River, adding the voice of a powerful state government to an environmental campaign against the corporate giant. The move was an abrupt reversal for the Democratic governor, who less than a year ago seemed to suggest he would support allowing the company to shut down its dredging operations.

Cuomo was facing intensifying pressure to act, after a 2015 International Business Times series documented how GE and its employees had pumped more than $466,000 into groups linked to him. That was on top of the $366,000 worth of GE campaign contributions that flowed to New York's federal lawmakers in the last three election cycles. Cuomo was offering GE economic development subsidies, yet not demanding the company remove all of the polychlorinate byphenols GE facilities had leaked into New York's largest river during the mid-20th century. Those chemicals — which are a suspected carcinogen — ended up creating one of the largest superfund sites in the United States.
Donald Trump's naming of a new campaign chief linked to a fiercely outspoken far-right movement is a dangerous step, Hillary Clinton is set to warn in a speech

The appointment of Breitbart Media's executive chairman, Stephen Bannon, as Donald Trump's campaign CEO has been greeted as a turning point in that presidential bid, and perhaps in conservative politics in America. We have been told that it "marks the official entree of the so-called 'alt-right' into the Republicans' top campaign", and that Trump's election strategy "now resembles the alt-right dream of maximizing the white vote". Hillary Clinton will address Trump's alleged turn to the alt-right in a speech in Nevada this Thursday.

But what is the alt-right? It is new, difficult to pin down, and hard to understand. But it's important to try to get a handle on who is involved, what they believe, and what their possible influence might be on the immediate future of rightwing politics.

The alt- (or alternative) right has surged as a (so far) mainly online movement, occupying positions beyond the pale of many conservatives. It has no centralised organisation or official ideology – it has been described as "scattered and ideologically diffuse".

Oklahoma is one of the most food insecure states in the US, where families struggle to buy enough healthy food. Locals are trying to ease poverty with community farming, but face difficulty in a city with a complex racial history

The "urban gardening" trend, having taken off in the form of community and rooftop gardens from Asia to Europe, is seen as a partial solution to US food insecurity by some experts. In theory, local gardens can help people with low incomes and limited or uncertain access to nutritious food gain reliable sources of produce. Yet in Tulsa and nearby Oklahoma City, gardening initiatives such as the Newsomes' have a hard time overcoming the immediacy of people's hunger, and the complex racial history and financial constraints that divide this south-midwestern state.

Newsome and her husband are long-time pioneers of black community farming in Tulsa. Their organisation, Newsome Community Farms, opened its farmers' market in 1999, employing 10 young people at a time with stipends to work on their five-acre farm. The Newsomes' focus has always been on training more gardeners and farmers, and Demalda still works with a group of Hmong immigrant farmers. Community gardening activity at their farm has dwindled over the last three years, but they still plan to sell greens and honey at market rates on their front garden this autumn.

"Racism is not out in the open. But you see another place getting money that is white-run, and what else can you think?"

– Demalda Newsome

There is not an ounce of proof suggesting criminality or racketeering, no indication that Secretary Clinton performed special favors for foundation donors. And, yes, as her campaign says, she spent most of her time with many hundreds of people who never sent gifts to her family's philanthropy. Nevertheless, there are plenty of Clinton allies who are troubled by her ties to the foundation because it simply looks bad.

In politics, donations buy access. Senators and members of Congress spend an obscene share of their days in office begging for campaign contributions and then many more hours hosting those contributors in private meetings. A secretary of State should be above that. Even though Clinton, herself, did not solicit donations, her husband did and, especially when the money came from foreign powers, that raises concerns both about ethics and foreign policy. Appearances are important, even if intentions are pure.

About this issue, the Clintons' old buddy, campaign guru James Carville, said he could understand the human impulse to get money from any willing party in order to heal the sick and save the planet. But putting on his hat as a political advisor, he said the foundation should have avoided donations from foreign governments and leaders if only because it gave ammunition to the Clintons' adversaries.

Bill Clinton says he will cut ties to the foundation if his wife is elected and the organization's ongoing work will be farmed out to other people. That obviously is the right thing to do, but it should have been done before now — not just when Hillary began her campaign for president, but when she took charge of American foreign policy in 2009.

A group of heavily armed white supremacists carrying Confederate flags and "WHITE LIVES MATTER" banners are standing directly outside the headquarters of the NAACP in Houston, Texas.

According to local media, the approximately 15-20 armed white men and women were protesting the NAACP for not condemning Black Lives Matter, blaming the social movement for riots and unrest in Milwaukee and the killings of police officers in Dallas, Texas that took place last month. Police are closely monitoring the demonstration to ensure the protesters armed with assault rifles don't try to use them.

| | |
| --- | --- |
| Arts & Education Events: | |

| | |
| --- | --- |
| Civic Events: | |

US Treasury says investigations into alleged tax avoidance by US companies including Amazon and Starbucks could create 'unfortunate precedent'

In a white paper commissioned by US Treasury secretary Jack Lew, the US warned that Brussels was overstepping its powers and becoming a "supranational tax authority".

The US warned that if Brussels pushes ahead with threatened plans to demand as much as $19bn (£14.4bn) from Apple for alleged unpaid taxes as a result of so-called sweetheart deals with Ireland the US Treasury will "consider potential responses".

The EU has been investigating whether Apple's tax deals with Ireland, which allowed the company to pay very little tax on income earned throughout Europe, amounted to state aid. The commission is expected next month to rule on the case, the biggest single corporate tax avoidance investigation.

At least 247 dead after 6.2-magnitude quake strikes central Italy on Wednesday morning

More than 12 hours after the initial tremor, bulldozers and earthmovers rumbled slowly up winding, deeply fissured roads, while temporary camps and kitchens were being set up to house and feed the several thousand made homeless.

Italy's civil protection agency wascoordinating the rescue operation after the quake, which was felt in Rome more than 93 miles (150km) away.

Hundreds of rescue crews from around the country, including a six-man team of firefighters from the Vatican, scrambled to the area straddling the regions of Umbria, Marche and Lazio.

"The situation is dramatic, there are many dead. Rescue efforts are under way and it is very, very difficult," the mayor of Amatrice, Sergio Pirozzi, told reporters. "Much of the village has disappeared. The aim now is to save as many lives as possible."

Campaign aims to 'cleanse' jihadis from Jarablus – terror group's last key hub on the 500-mile Syria-Turkey border

Turkey said its tanks had crossed the border into Syria on Wednesday morning after airstrikes and shelling that began shortly after midnight. It is the first time Ankara's ground forces have ventured into Syria, with the exception of a brief operation early last year to rescue the tomb of an ancestor of the founder of the Ottoman empire.

Turkey said it had hit 81 targets in northern Syria with F-16 warplanes as part of the operation, called Euphrates Shield, and had also shelled Isis positions in response to artillery strikes from within Syrian territory.

Aiding and abetting the Saudi slaughter in Yemen

Just a few short years ago, Yemen was judged to be among the poorest countries in the world, ranking 154th out of the 187 nations on the U.N.'s Human Development Index. One in every five Yemenis went hungry. Almost one in three was unemployed. Every year, 40,000 children died before their fifth birthday, and experts predicted the country would soon run out of water.

Such was the dire condition of the country before Saudi Arabia unleashed a bombing campaign in March 2015, which has destroyed warehouses, factories, power plants, ports, hospitals, water tanks, gas stations, and bridges, along with miscellaneous targets ranging from donkey carts to wedding parties to archaeological monuments. Thousands of civilians — no one knows how many — have been killed or wounded. Along with the bombing, the Saudis have enforced a blockade, cutting off supplies of food, fuel, and medicine. A year and a half into the war, the health system has largely broken down, and much of the country is on the brink of starvation.

Last week, the Pentagon announced the approval of the sale of an additional $1.15 billion worth of weapons to Saudi Arabia. The callousness of this announcement – just days after Saudi Arabia rebooted its devastating bombing campaign in Yemen – is breathtaking. The Saudi-led coalition has used American-made fighter jets, bombs and other munitions in a relentless onslaught against Yemen that has left thousands of innocent civilians dead and created a humanitarian crisis that the United Nations characterizes as a "catastrophe." In just the last few days, the Saudi-led coalition has killed at least 35 people – most of them women and children – in three airstrikes against a school, a residential neighborhood and a hospital in northern Yemen.

Congress has thirty days to block the sale of these weapons. It is a moral imperative that they do so.

Failure to ban sales to Saudis despite Yemen humanitarian crisis makes UK a 'significant violator' of arms trade treaty, charity says

Oxfam has accused ministers of being in "denial and disarray" over the sale of arms to Saudi Arabia for potential use in Yemen's bloody civil war and says the UK's international credibility is in jeopardy as a result.

Fighting in the country pits the Yemeni government, backed by Saudi Arabia, against Shia Yemeni rebels.

The UK government has faced repeated calls to ban the sale of weapons to Saudi Arabia amid concerns that international humanitarian law could be being broken in the conflict.

Oxfam estimates there are more than 21 million people in need of humanitarian assistance in Yemen, 82% of the population – more than any other country in the world.

The pharmaceutical company that cornered the market on the life-saving EpiPen and dramatically increased its price also jacked up the pay of top executives.

Between 2007, when Mylan acquired the patent for the EpiPen, to 2015, the wholesale price had skyrocketed from $56.64 to $317.82 — a price increase of 461 percent. Similarly, compensation for Mylan CEO Heather Bresch increased astronomically over the same time period. According to NBC News, Bresch went from making $2.453,456 in 2007 to $18,931,068 in 2015, amounting to a 671 percent raise over eight years.

But Bresch wasn't alone in the windfall resulting from the rising price of the EpiPen. Mylan's president, Rajiv Malik, saw his base pay increase by 11 percent to $1 million annually as of 2015, while Mylan Chief Commercial Officer Anthony Mauro got a 13.6 percent raise, amounting to $625,000 per year.

Millions of people with life-threatening allergies, particularly food allergies, depend on the EpiPen for survival. When used, the EpiPen provides an emergency dosage of epinephrine to the user, inhibiting a potentially fatal allergic reaction, known as anaphylaxis, from occurring.

....As of Tuesday evening, Mylan had not responded to the request for a Senate hearing. The Other 98%, a progressive action group, has launched a petition calling on Mylan to make the EpiPen affordable for everyone. Click here to sign.

'Obama has to consider what his campaign to pass the TPP will do to the Democratic Party—or at least he should'

Never before have both main presidential candidates broken so completely with Washington orthodoxy on globalisation, even as the White House refuses to give up. The problem, however, goes much deeper than trade deals

Enemies in politics and opposed on nearly all fronts, Donald Trump and Hillary Clinton have found themselves united together against Barack Obama and a tradition that has kept America in charge of the world economy's rules for more than 70 years. The next president of the United States is rethinking free trade.

In Washington, that tradition was taken for granted for so long that it rarely attracted much attention even in the business press, let alone dominated the politics pages of an entire election season. But in 2016, America's faltering faith in free trade has become the most sensitive controversy in DC – never before have both main presidential candidates broken with the orthodoxy that globalisation is always good for Americans.

In the early 1980s, the author was one of the first to herald the emergening dominance of neoliberalism in the west. Here, he argues that that doctrine is now faltering. But what happens next?

---

Reference:

The Financial Times headline is uncharacteristically dramatic: America's Middle Class Meltdown: core shrinks to half of US homes.

CrimeRadar is the world's first publicly available crime-forecasting tool based on open-access data. But will it work?