With hydrogen tipped to become an important clean energy fuel, a new process may be the solution to powering electric vehicles and heating buildings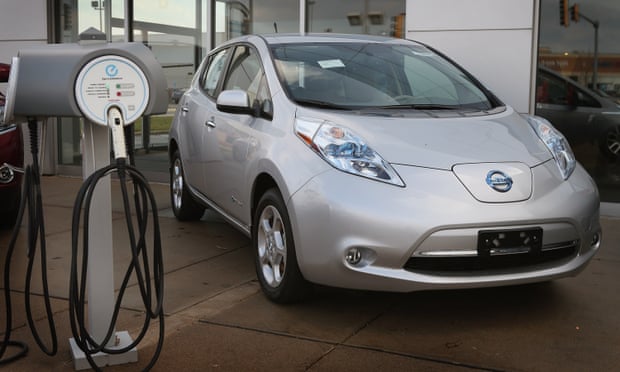 A new process for converting natural gas into hydrogen could be the solution for powering electric vehicles Photograph: Scott Olson/Getty Images
An Australian company is using "cheap as dirt" iron ore to convert methane in natural gas into hydrogen. Importantly, their process generates near-zero emissions, as the carbon content of the gas is captured in the form of high-quality graphite.
As a clean-burning fuel, hydrogen could play a key role in future energy markets, but production methods are still too energy-intensive and costly.
Hazer Group is a Perth-based company, spun out of the University of Western Australia, which plans to halve the cost of hydrogen production. It is currently scaling-up its patented process, based on "methane cracking".
"The chemistry is remarkably simple," says Geoff Pocock, the managing director of the ASX-listed company, which raised A$5m at its initial public offering in September 2015. "You can think of it as a self-sequestering energy production system."
As natural gas passes through the heated iron ore catalyst, methane in the gas breaks down into its constituent elements: hydrogen and carbon. But instead of carbon dioxide, would-be emissions are captured in the form of solid graphite.
Some of the hydrogen is used to power the system, and in the surplus "you've got a hydrogen source, which hasn't got a CO2 footprint," he says.
As Air Resources Board meets to consider it, proposal lauded as example for EPA & other states
Sacramento, July 21 -- Today the California Air Resources Board first meets to publicly consider its proposed rule to limit methane and associated toxic pollution from oil and gas facilities. While CARB still has the opportunity to strengthen the rule in a few key ways, environmental groups from around the state and the country lauded the rule as an example to follow for other states and the federal Environmental Protection Agency.
The CARB proposal:
Applies to new and existing oil and gas facilities. In this way it goes beyond the recently finalized U.S. EPA rules, which only apply to new and modified facilities
Applies to a broad suite of on and offshore facilities including well sites, compressor stations, gas processing plants, and natural gas underground storage facilities
Applies to many of the leading sources of leaks and venting and requires operators to use modern leak detection and capture equipment to ensure more natural gas is routed to pipelines or used onsite rather than vented, leaked to the atmosphere, or combusted
"To save coral reefs, we need to reduce our overreliance on fossil fuels.... Local management alone won't cut it."
Senator from Massachusetts derides congressional attempt to 'intimidate' state Attorney General Maura Healey
U.S. Sen. Elizabeth Warren (D-Mass.) turned up the heat on ExxonMobil and its congressional accomplices on Wednesday, publicly and passionately coming to the defense of her state's attorney general, Maura Healey, in her ongoing fight to hold Big Oil accountable for climate crimes.
Healey and New York Attorney General Eric Schneiderman, along with eight environmental organizations, were issued subpoenas last week by the head of the House Science, Space, and Technology Committee, Rep. Lamar Smith (R-Texas), seeking information and documents related to their ExxonKnew investigations.
As Inside Climate News reports:
The move was decried immediately as an oil-soaked "abuse of power," with green groups pointing to campaign contributions from fossil fuel corporations to members of the committee, and Healey explicitly stating she would not comply.
More than 800,000 volunteers planted saplings in public spaces in the state of Uttar Pradesh hoping to reduce greenhouse gases and reforest the countryside
The frigid plains of northern Siberia are becoming a hotspot for mysterious geological phenomena. Over the past couple of years, sudden craters have been exploding from the permafrost-laden ground. Last month, we reported on a giant chasm in the Sakha Republic that looms so wide and deep, locals refer to it as a "gateway to the underworld."
Now, the frozen tundra on Siberia's remote Belyy Island is home to the region's newest aberration: eerie, rippling, underground bubbles.
Partnership for Responsible Growth and other groups launch campaigns to urge Republicans and Rupert Murdoch's media empire to accept climate change
US agencies Nasa and Noaa say last month was 0.9C hotter than the 20th century average and the hottest June since records began in 1880
The $650m, 96-turnbine Dundonnell project is expected to save 700,000 tonnes of greenhouse gas emissions a year
---
Reference:
....Researchers, Eicke Latz at the University of Bonn and colleagues, followed up on the parents' hypothesis and found that in mice, cyclodextrin indeed blocked plaque formation, melted away plaques that had already formed in arteries, reduced atherosclerosis-associated inflammation, and revved up cholesterol metabolism—even in rodents fed cholesterol-rich diets.
A growing body of evidence suggests pollution can do a number on the brain. The July/August Mother Jones cover story chronicled the research connecting neurodegenerative diseases like Alzheimer's and Parkinson's to the dirty air we breathe; studies have found that pollution may also age the brain prematurely. And according to new research from the University of Texas-El Paso, pollution's damage to the brain may start even sooner than was previously thought: Fourth and fifth graders exposed to exhaust emissions, researchers found, don't do as well in school as their peers who breathe cleaner air.
Though Canada's system is the second most expensive in the world per capita, it would save America $1.3 Trillion/yr and cover everyone
[All the other OECD countries negotiate much lower drug & medical procedure costs]
Police guard the Olympic Park shopping centre after the attack. Photograph: Imago / Barcroft Images

A teenager with German-Iranian citizenship has shot and killed nine people and wounded more than 15 at a shopping centre in Munich, in the third attack on civilians in Europe in eight days.

The 18-year-old man, who police believe acted alone, is understood to have lived in Munich for up to two years. He reportedly shouted "I am German" during the prolonged attack on Friday evening, at the end of which he killed himself.

Germany's third largest city was forced into lockdown after the gunman opened fire on diners in a McDonald's restaurant before moving to a nearby shopping mall.

His motive was "completely unclear", said Munich police chief Hubertus Andrae. There was no immediate evidence of an Islamist or other terrorist motive.

To break the cycle of violence and insecurity, all Arab countries will ultimately have to step up to improve water management and protect ecosystems. Otherwise, their water woes – along with internal unrest – will only worsen.

Nowhere is freshwater scarcer than in the Arab world. The region is home to most of the world's poorest states or territories in terms of water resources, including Bahrain, Djibouti, Gaza, Jordan, Kuwait, Libya, Qatar, Saudi Arabia, and the United Arab Emirates. This shortage – exacerbated by exploding populations, depletion and degradation of natural ecosystems, and popular discontent – is casting a shadow over these countries' future.

The Arab world is increasingly trapped in a vicious cycle. Environmental, demographic, and economic pressures aggravate water scarcity, and the resulting unemployment and insecurity fuels social unrest, political turmoil, and extremism. Governments respond with increased subsidies on water and other resources, deepening the environmental challenges that exacerbate scarcity and lead to unrest.

Urgent action is needed to break the cycle. For starters, countries should phase out the production of water-intensive crops. Grains, oilseeds, and beef should be imported from water-rich countries, where they can be produced more efficiently and sustainably.

For the crops that Arab countries continue to produce, the introduction of more advanced technologies and best practices from around the world could help to reduce water use. Membrane and distillation technologies can be used to purify degraded or contaminated water, reclaim wastewater, and desalinate brackish or ocean water. Highly efficient drip irrigation can boost the region's fruit and vegetable production, without excessive water use.

Another important step would be to expand and strengthen water infrastructure to address seasonal imbalances in water availability, make distribution more efficient, and harvest rainwater, thereby opening up an additional source of supply. Jordan, with Israeli collaboration and European Union aid, is creating a Red Sea-Dead Sea pipeline, a conduit that would desalinate Red Sea water, in order to provide potable water to Jordan, Israel, and the Palestinian territories, and then funnel the brine to the dying Dead Sea.

Improved water management is also crucial. One way to achieve this is to price water more appropriately, which would create an incentive to prevent wastage and conserve supplies. While subsidies need not be eliminated completely, they should be targeted at smaller-scale farmers or other high-need workers and redesigned so that they, too, provide incentives for water conservation and efficiency.

Of course, wealthier, more stable countries like Saudi Arabia, Qatar, Kuwait, and the UAE are better placed than conflict-torn countries like Yemen, Libya, and Iraq to address the rapidly intensifying water crisis they face.

The senator has been lieutenant governor and governor of Virginia. Since his arrival in the Senate in 2013, he has developed his résumé in foreign policy, sitting on the foreign relations and armed services committees, and repeatedly called for a formal war authorization against Isis.

Trump chose as his running mate Mike Pence, the governor of Indiana and a popular figure among social conservatives. Democrats pounced on Pence as the most conservative vice-presidential pick in modern history, citing in particular his hardline stance against abortion and approval of a controversial religious freedom law last year that protected businesses from denying services to LGBT individuals.

Donald Trump's acceptance speech in Cleveland played upon the nation's fears, leading some Republican to call it the death of the party

Donald Trump: 'Our convention occurs at a moment of crisis for our nation.' Photograph: Mike Segar/Reuters

Donald Trump's dark vision of America polarized political reactions on Friday as Democrats warned against underestimating the power of his convention night appeal to the nation's fears.

In a speech to formally accept the Republican party nomination, the man portrayed by one speaker in Cleveland as the "blue-collar billionaire" repositioned himself as "the law and order candidate", the only one capable of restoring safety to a country he claimed was facing existential challenges.

"Our convention occurs at a moment of crisis for our nation. The attacks on our police, and the terrorism in our cities, threaten our very way of life. Any politician who does not grasp this danger is not fit to lead our country," he said to rapturous applause.

He also claimed to speak for ordinary Americans with an uncompromising reprisal of campaign promises on protectionism and immigration aimed at communities he said were "crushed by our horrible and unfair trade deals. These are the forgotten men and women of our country," he told a packed crowd that repeatedly broke into chants of "U-S-A, U-S-A" and "build a wall!". "People who work hard but no longer have a voice. I am your voice," he claimed.

....A former White House communications director for George W Bush decried themes of "protectionism, isolationism, and nativism" that many fear will alienate independent voters in November's election.

"The Republican party that I worked for for two decades died in this room tonight," Nicolle Wallace told NBC.

"The party I was part of is dead," agreed John McCain's daughter and Fox News Host, Meghan McCain.

20,000 new emails released by WikiLeaks on Friday show multiple examples of the Democratic National Committee coordinating with the Clinton campaign and major media figures to both build up Hillary Clinton and trash Bernie Sanders, all while claiming neutrality to the public. But the astonishingly deep level of collaboration and coordination has still gone unreported.

As of right now, Debbie Wasserman Schultz, Hillary Clinton, or Bernie Sanders have all ignored the growing controversy surrounding the leaked emails. But the contents of the emails are likely to stir up tension between rivaling factions of delegates at the Democratic National Convention in Philadelphia next week.

Here are nine of the most egregious examples of the DNC actively working with the media and the Clinton campaign to smear Sanders:

The DNC's communications director was eager to point out negative angles for Sanders stories
Debbie Wasserman Schultz privately called Clinton the "presumptive nominee" while accusing Sanders of not being a Democrat
DNC officials worked closely with the Hillary Clinton campaign to respond to Sanders' money laundering allegations
A Politico reporter agreed to allow the DNC to edit his stories
DNC staff automatically dismissed interview requests from "Bernie bros"
Wasserman Schultz demanded an apology from MSNBC's Mika Brzezinski for suggesting she resign
DNC staffers knew Sanders would destroy Wasserman Schultz in a one-on-one segment
DNC staffers seemed to know Clinton would be the nominee with nearly two months of voting left
The DNC may have had plants inside the Sanders campaign

"If Clinton has reached out to Bernie supporters, it appears that she has done so to stick triangulating thumbs in their eyes."

Reporting in recent days increasingly signaled that Kaine was Clinton's top choice, but the official announcement confirmed the worst fears of progressives who warned such a pick would be taken as "a pronounced middle finger" to the millions who voted for Sanders during the primary season. At stake, many critics of the choice indicate, are pressing issues—including reproductive rights, climate change, financial regulation, and corporate-friendly trade agreements—where Kaine holds positions far to the right of where they think the party, and the country, should be headed.

Instead of courting the energized progressive base activated and inspired by Sanders, Clinton's choice was interpreted as a calculated affront to those potential voters.
"Is this guy running for president or dictator?" asks Bernie Sanders

A complete draft of the speech, obtained and published by Politico ahead of its delivery, follows:

By the time Trump took the stage at the Quicken Loans Arena, at about 10:20 P.M., there was little mystery about what he would say. The speech had been leaked to Politico and other news organizations hours earlier, and it made for grim reading. "Our Convention occurs at a moment of crisis for our nation," Trump was slated to say in his opening. "The attacks on our police, and the terrorism in our cities, threaten our very way of life. Any politician who does not grasp this danger is not fit to lead our country." As a cure-all for these ills, and the many others he detailed in the draft, he was to present a simple and straightforward solution: his election to the Oval Office. "I have a message for all of you," the text read. "The crime and violence that today afflicts our nation will soon come to an end. Beginning on January 20, 2017, safety will be restored."

The Republican National Convention was a parade of fear and loathing.

Several delegates to the platform drafting committee have deep financial ties to conservative industries.

Virginia Sen. Tim Kaine, considered a leading contender for the Democratic vice presidential nomination, has spent this week signaling to the financial industry that he'll go to bat for them.

On Monday, Kaine signed onto two letters, one to federal banking regulators and the other to the Consumer Financial Protection Bureau, urging them to loosen regulations on certain financial players. The timing of the letters, sent while Kaine is being vetted for the top of the ticket, could show potential financial industry donors that he is willing to serve as an ally on their regulatory issues.

In the letters, Kaine is offering to support community banks, credit unions, and even large regional banks. While separate from the Wall Street mega-banks like JPMorgan Chase and Bank of America, these financial institutions often partner with the larger industry to fight regulations and can be hostile to government efforts to safeguard the public, especially if it crimps their profits.

They also represent a key source of donor funds, one that has trended away from Democrats. The Independent Community Bankers of America have given 74 percent of their $873,949 in donations this cycle to Republicans, according to the Center for Responsive Politics. Regional banks like PNC Financial Services, SunTrust Bank, and First Republic Bank, have given even higher percentages to the Republicans.

Five things to know about USDA chief Tom Vilsack, who's emerged at the top of HRC's Veep shortlist.

He's no stranger to agribiz
But he's also a champion of alternative food systems
He loves GMOs
He especially loves crops genetically engineered to tolerate weed killers
He pissed off people who protect the rights of poultry workers

"Treason is punishable by death. It's in our Constitution."

I wanted to find out how deep the sentiment to jail Hillary—or do worse—ran among die-hard Trump supporters gathering at events outside the convention hall. So I took to the streets to produce the video above.

For some, execution was on the table. "She's extremely corrupt, she's extremely dangerous," said Rhonda Welsch, a 55-year-old food and beverage worker at a Hawaii resort. "I think that's what she deserves: the death penalty."

This is the third video in our series about Trump voters in Cleveland. Check out the video where I asked Trump voters, "When did America stop being great?" and the video recording their reactions to Melania Trump's plagiarism scandal.

The GOP crowd ate up Carson's Satan talk whether they believed it or not, much like they cheer for Trump's wall

Away from these predominantly liberal arenas, white identity has found a more potent form of salience. For poor and working-class whites, skin color no longer feels like an implicit guarantor of privilege. There is a sense that others, thanks to affirmative action or lax immigration policies, have nudged ahead of them on the ladder of social ascent. Their whiteness is, in fact, the very reason they suspect that they are under siege. Marginalized by a black President, as they imagine, and alienated by urbane élites of every hue, they have begun to understand themselves in terms of identity politics. It almost doesn't matter whether their suspicions are true in a strictly material sense. The accident of white skin still brings with it economic and social advantages, but resentment is a powerful engine, particularly when the view from below feels unprecedented.

In a plebiscite this year, Colombians will accept or reject a peace deal between the government and Farc guerrillas to end more than half a century of war

Hundreds of people march during an event to support 'yes' in the referendum promoted by the government to ratify peace agreements with the Farc, in Cali, Colombia. Photograph: Christian Escobar Mora/EPA

Like the EU referendum in Britain, it's a risky proposition: a simple yes/no vote over a complicated deal which is broadly supported by the international community, but which provokes visceral rancour among many ordinary voters.

Most Colombians who plan to vote say they would approve the accords, but some analysts warn that widespread hostility to the Farc could lead to a surprise outcome.

In the latest Gallup poll, of the 40% of respondents who said they would definitely vote in the plebiscite, 70% said they would support the agreements between the Farc and government.

But in a separate poll by Ipsos, 84% said they believed Farc leaders should pay for their crimes in prison, although the accords reached in Havana specify that guerrillas who confess would be eligible to alternative sentences and do no jail time at all. More than 70% say the leaders should not be allowed to participate in politics, which the accords would allow.

Turkish President Tayyip Erdogan's firing of some 50,000 people, including educators, bureaucrats, police and military personnel, in the wake of the failed July 15 coup against him, provoked sharp criticism in Egypt, Jordan and other Arab countries that have an adversarial attitude toward the Religious Right such as the Muslim Brotherhood. Erdogan has typically been an ally of the Muslim Brotherhood and its offshoots, and this secular/ religious politics split seems to account for the differences in how his actions are seen in various Arab countries.

The UK is losing ground to Germany and other countries when it comes to using economic growth to improve the wellbeing of its citizens.

The sustainable economic development assessment (Seda) by the Boston Consulting Group measures the wellbeing of citizens across 160 countries. Using measures other than just GDP, such as employment rates, economic stability, income equality and environment, it gives countries an overall score and a recent progress score, and compares their ability to convert wealth and growth into wellbeing.

This year's report found that the UK was losing ground in key areas linked to sustainable economic development such as income, health and education.

JIDDA, Saudi Arabia — For most of his adult life, Ahmed Qassim al-Ghamdi worked among the bearded enforcers of Saudi Arabia. He was a dedicated employee of the Commission for the Promotion of Virtue and the Prevention of Vice — known abroad as the religious police — serving with the front-line troops protecting the Islamic kingdom from Westernization, secularism and anything but the most conservative Islamic practices.

Some of that resembled ordinary police work: busting drug dealers and bootleggers in a country that bans alcohol. But the men of "the Commission," as Saudis call it, spent most of their time maintaining the puritanical public norms that set Saudi Arabia apart not only from the West, but from most of the Muslim world.

A key offense was ikhtilat, or unauthorized mixing between men and women. The kingdom's clerics warn that it could lead to fornication, adultery, broken homes, children born of unmarried couples and full-blown societal collapse.

For years, Mr. Ghamdi stuck with the program and was eventually put in charge of the Commission for the region of Mecca, Islam's holiest city. Then he had a reckoning and began to question the rules. So he turned to the Quran and the stories of the Prophet Muhammad and his companions, considered the exemplars of Islamic conduct. What he found was striking and life altering: There had been plenty of mixing among the first generation of Muslims, and no one had seemed to mind.

So he spoke out. In articles and television appearances, he argued that much of what Saudis practiced as religion was in fact Arabian cultural practices that had been mixed up with their faith.

There was no need to close shops for prayer, he said, nor to bar women from driving, as Saudi Arabia does. At the time of the Prophet, women rode around on camels, which he said was far more provocative than veiled women piloting S.U.V.s.

He even said that while women should conceal their bodies, they needed to cover their faces only if they chose to do so. And to demonstrate the depth of his own conviction, Mr. Ghamdi went on television with his wife, Jawahir, who smiled to the camera, her face bare and adorned with a dusting of makeup.

It was like a bomb inside the kingdom's religious establishment, threatening the social order that granted prominence to the sheikhs and made them the arbiters of right and wrong in all aspects of life. He threatened their control.

Mr. Ghamdi's colleagues at work refused to speak to him. Angry calls poured into his cellphone and anonymous death threats hit him on Twitter. Prominent sheikhs took to the airwaves to denounce him as an ignorant upstart who should be punished, tried — and even tortured.

More than 1,500 university deans asked to resign and 257 PM's office staff dismissed, with 35,000 public servants now affected

The scale of the arrests and firings led to fears that Erdogan is using the situation to settle scores with anyone perceived to pose any kind of threat to the government, whether or not they were involved in the coup.

Mark Johnson and a colleague allegedly defrauded clients and 'manipulated the foreign exchange market to benefit themselves and their bank'

"The defendants allegedly betrayed their client's confidence, and corruptly manipulated the foreign exchange market to benefit themselves and their bank," said the US assistant attorney general Leslie Caldwell. "This case demonstrates the [US Department of Justice's] criminal division's commitment to hold corporate executives, including at the world's largest and most sophisticated institutions, responsible for their crimes."

It's time to pour our creative energies into imagining a new global economy. Infinite growth is a dangerous illusion

Listen up, because you are about to get another object lesson in how brazen the private equity industry is in defending its dubious looting, um, fee extraction practices. We will also see captured public pension funds, in this case CalSTRS, stand shoulder-to-shoulder with the private equity industry and against the interests of its beneficiaries and California taxpayers.

As the letter below shows, eight prominent Senators cleared their throats and asked the SEC why it has yet to produce an investor bulletin on private equity, which they observe is puzzling given that the agency has uncovered plenty of gambling in Casablanca.

---

Reference:

The Financial Times headline is uncharacteristically dramatic: America's Middle Class Meltdown: core shrinks to half of US homes.