Republican voters made Trump the white-supremacist-in-chief. That's why a resignation from Miller wouldn't change much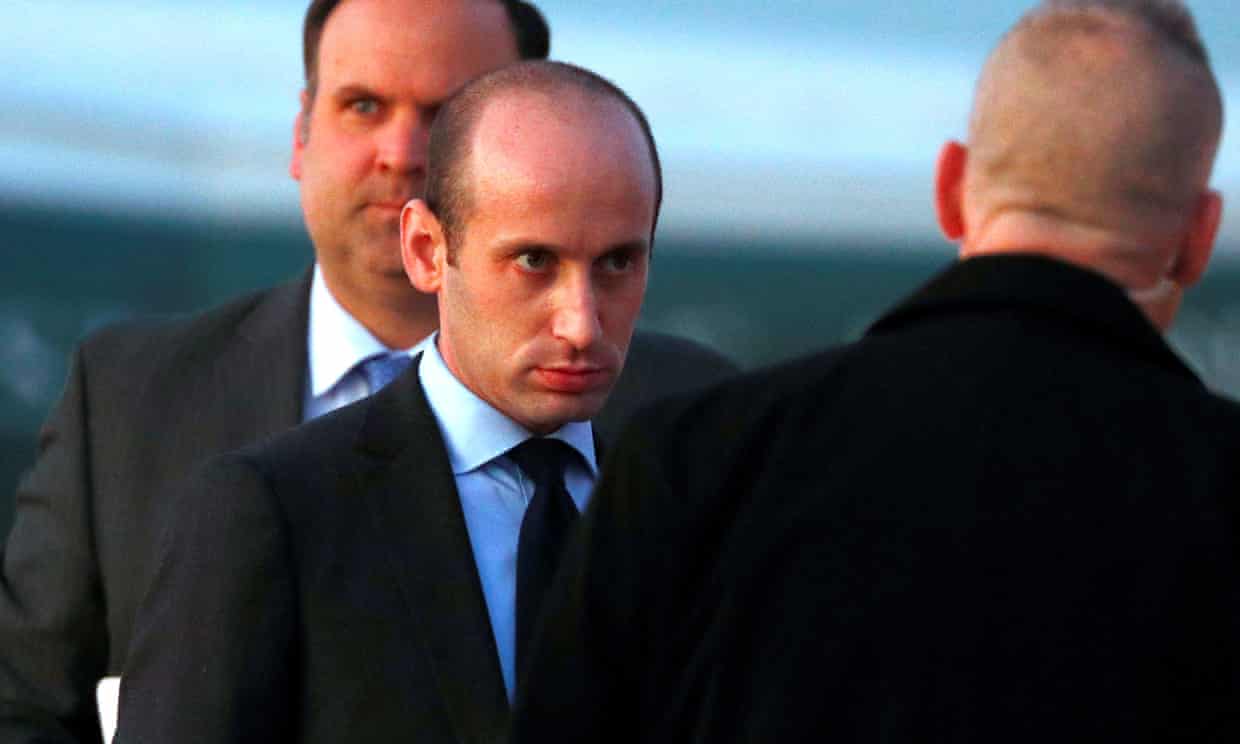 'It is time for Democrats to face and name the ugly truth: the Grand Old Party is a party steeped in white supremacy.' Photograph: Tom Brenner/Reuters
This week, the Southern Poverty Law Center (SPLC) published a bombshell article revealing troubling emails that White House senior policy advisor Stephen Miller sent to editors at Breitbart News, the far-right media outlet previously led by Steve Bannon.
The emails, which were leaked by former Breitbart editor Katie McHugh and predate Miller's period in the White House, show Miller's obsession with immigration and his seemingly successful attempts to get Breitbart editors to write anti-immigration stories, some of which were based on openly white nationalist sources like American Renaissance and V-Dare.
The widespread public outrage in response to the revelations is understandable. Miller is the longest serving senior advisor to President Trump who is not related to the president, and is believed to be the architect of the White House's draconian anti-immigration policies, which doesn't just target "illegal immigration" but also aims to return to the country to the infamously racist immigration policy of the early 20th century.
In its response to the leak, the White House tried to discredit the source, SPLC, which has had some internal and external problems recently, but is overall a very reliable authority on the US far right (full disclaimer: I regularly collaborate with the SPLC). One White House spokesperson went full "alternative facts" by accusing SPLC of antisemitism, because Miller is Jewish. By doing so, the White House displayed a complete lack of understanding about what antisemitism is, which is no surprise, given that Trump considers himself "the least antisemitic person you've ever seen".
The Democratic responses were predictable and swift as well. Of all the 2020 candidates, Julian Castro went the furthest in condemning Miller – he called him a "neo-Nazi" – but all agreed that he should resign from the White House.
But would Miller's resignation change anything? While Miller might be behind the concrete policies that harm immigrants, he is not the main white supremacist in the White House. And Trump can easily find someone else to do Miller's work, particularly now that almost the whole Republican party has fallen in line with their president.
It also externalizes white supremacy, as if it lives in the margins. But it has been hiding in plain sight within the Republican Party for decades. Miller wrote the emails to Breitbart when he was still an aide to Senator Jeff Sessions, who has been a consistent voice of white supremacy in Congress since 1997. And the Alabama Senator was not alone in Congress either. Representative Steve King has been the most open and unapologetic voice for the cause since 2003. Others, like representatives Louie Gohmert, Paul Gosar, Tom Tancredo and Dana Rohrabacher, might not be as open in their support, but they all encourage white nationalism to varying degrees.
But white supremacy in the Republican party is not limited to just these individual congressmen and women. It runs much deeper than them. White supremacy was at the core of the "Southern Strategy", dating back to the unsuccessful 1964 presidential campaign of Barry Goldwater, which was formative for the future conservative movement. Perfected by President Richard Nixon, with the help of speechwriter Pat Buchanan, dog whistles to white supremacy have been at the heart of virtually every Republican campaign since the 1970s....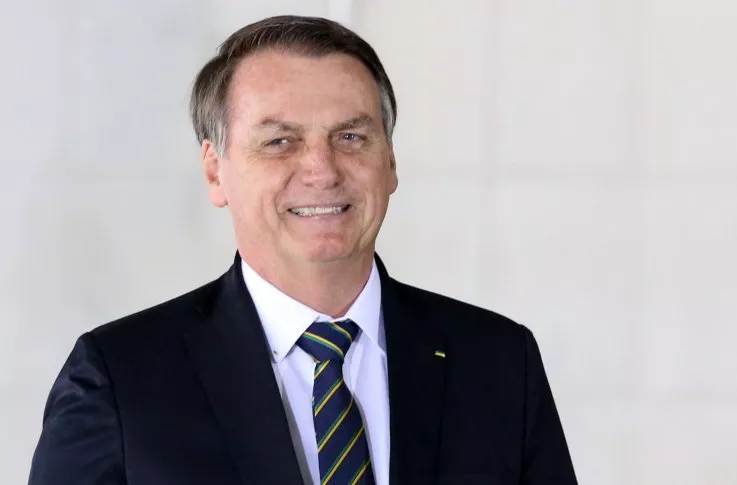 President Jair Bolsonaro, who has been called the "Brazilian Trump," supports the cuts to sex education. SERGIO LIMA/AFP/GETTY
Brazil is cutting funding for sex education as the country experiences a sharp increase in incidences of sexually transmitted infections (STIs).
The balance of the country's political power has moved dramatically right in recent years, culminating in the October 2018 election of President Jair Bolsonaro, who took office in January. Bolsonaro was elected on a platform of conservative populism and has been widely compared to President Donald Trump.
National legislation promoted by the country's religious right that would limit the teaching of sex education in classrooms is supported by Bolsonaro. Although the law has not been formally adopted, several areas of the country have adopted similar laws at the local level.
Opponents of the laws warn that curtailing education could lead to a worsening of already high rates of STIs and are rooted in scientific ignorance and homophobia.
Bolsonaro himself has a long history of what appear to be extremely anti-gay views. He has stated that he would be "incapable" of loving a hypothetical gay son, and once claimed that if he witnessed two men kissing, he "would beat them." When he campaigned for president, he made unsubstantiated claims that a political opponent had created a "gay kit" for schools to "convert" children to homosexuality.
The push to limit sex education seems motivated at least partly by the idea that children who learn about sex will start having sexual encounters earlier. Advocates of limiting education also apparently believe that learning about homosexuality will somehow result in children being persuaded to become gay, a concept that has been widely discredited by experts....
Smoke and steam billows from Belchatow Power Station, Europe's largest coal-fired power plant near Belchatow, Poland on November 28, 2018. Inventors claim a new carbon capture "battery" could be retrofitted for industrial plants but also for mobile sources of CO2 emissions like cars and airplanes. Photo by REUTERS/Kacper Pempel
Renewable energy alone is not enough to turn the tide of the climate crisis. Despite the rapid expansion of wind, solar and other clean energy technologies, human behavior and consumption are flooding our skies with too much carbon, and simply supplanting fossil fuels won't stop global warming. To make some realistic attempt at preventing a grim future, humans need to be able to physically remove carbon from the air.
That's why carbon capture technology is slowly being integrated into energy and industrial facilities across the globe. Typically set up to collect carbon from an exhaust stream, this technology sops up greenhouse gases before they spread into Earth's airways. But those industrial practices work because these factories produce gas pollutants like carbon dioxide and methane at high concentrations. Carbon capture can't draw CO2 from regular open air, where the concentration of this prominent pollutant is too diffuse.
Moreover, the energy sector's transition toward decarbonization is moving too slowly. It will take years — likely decades — before the world's hundreds of CO2-emitting industrial plants adopt capture technology. Humans have pumped about 2,000 gigatonnes — billions of metric tons — of carbon dioxide into the air since industrialization, and there will be more.
But what if you could have a personal-sized carbon capture machine on your car, commercial airplane or solar-powered home?
Chemical engineers at the Massachusetts Institute of Technology have created a new device that can remove carbon dioxide from the air at any concentration. Published in October in the journal Energy & Environmental Science, the project is the latest bid to directly capture CO2 emissions and keep them from accelerating and worsening future climate disasters.
Think of the invention as a quasi-battery, in terms of its shape, its construction and how it works to collect carbon dioxide. You pump electricity into the battery, and while the device stores this charge, a chemical reaction occurs that absorbs CO2 from the surrounding atmosphere — a process known as direct air capture. The CO2 can be extracted by discharging the battery, releasing the gas, so the CO2 then can be pumped into the ground. The researchers describe this back-and-forth as electroswing adsorption....