The A.P. reported that Paul Manafort, Trump's former campaign manager, worked for a number of years with Oleg Deripaska, a Russian billionaire who has close ties to Vladimir Putin. PHOTOGRAPH BY SAM HODGSON / THE NEW YORK TIMES / REDUX
....The FBI information includes "human intelligence, travel, business and phone records and accounts of in-person meetings," according to CNN, which, citing an unnamed source, also reported that "this is partly what FBI Director James Comey was referring to when he made a bombshell announcement Monday before Congress that the FBI is investigating the Trump campaign's ties to Russia." Comey told Congress that, to launch a counterintelligence investigation, the F.B.I. needed "a credible allegation of wrongdoing or reasonable basis to believe that an American may be acting as an agent of a foreign power."
The CNN report wasn't the only Russia story to emerge on Wednesday. Earlier in the day, the Associated Press reported that Paul Manafort, Trump's former campaign manager, worked for a number of years with Oleg Deripaska, a Russian billionaire who has close ties to Vladimir Putin, to "influence politics, business dealings and news coverage inside the United States, Europe and the former Soviet republics to benefit the Putin government."
The A.P. report quoted from a 2005 document in which Manafort made a pitch to Deripaska, who runs the world's biggest aluminum company. In the document, Manafort said that his consulting company, given "the appropriate resources," would "be offering a great service that can re-focus, both internally and externally, the policies of the Putin government." The story also said that Manafort and Deripaska signed a "$10 million annual contract" beginning in 2006, and that they maintained a business relationship until at least 2009.
What are we to make of these reports? On social media, many people are declaring that Trump is about to be impeached. That is wishful thinking. On Monday, Comey only confirmed the existence of an F.B.I. investigation—he gave no indication of how the investigation is going. In Congress, meanwhile, there isn't enough Republican support to set up a special committee to investigate the President's ties to Russia, let alone to appoint an independent prosecutor or launch impeachment proceedings.
....In all of this, there is much that remains murky. One thing shines through, though. The White House's "marginalia" problem is far from marginal, and it isn't going away.
Late-night meetings prove inconclusive as president forges ahead with Friday vote on flagship promise despite fears bill may fail
President Donald Trump's advisers have been doing the rounds trying to secure enough Republican support to change Barack Obama's healthcare law. Photograph: Jim Watson/AFP/Getty Images
After weeks of legislative bets and bluffs, Donald Trump decided on Thursday night that it was time for everyone to show their hand on healthcare reform.
As Republican legislators gathered for emotional late-night meetings on Capitol Hill, Trump sent over his most trusted advisers – Steve Bannon, Kellyanne Conway, Reince Priebus and budget director Mick Mulvaney – to try to help craft majority support for legislation to replace Barack Obama's signature healthcare law.
The message from the White House was plain: vote on the bill on Friday. Let opponents cast their votes publicly. And if the legislation fails, there won't be another effort to make good on the flagship Republican promise to replace Obama's Affordable Care Act.
The president was moving on, his advisers told legislators.
Senate minority leader Chuck Schumer joins Bob Casey and independent Bernie Sanders in opposition, setting stage for clash over potential filibuster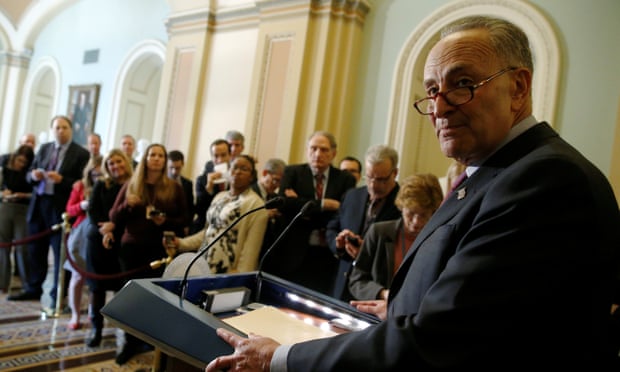 Chuck Schumer has voiced his opposition to Neil Gorsuch's supreme court nomination. Photograph: Jonathan Ernst/Reuters
"After careful deliberation, I have concluded that I cannot support Judge Neil Gorsuch's nomination to the supreme court," Schumer said on the Senate floor. "He will have to earn 60 votes for confirmation. My vote will be 'no' and I urge my colleagues to do the same."
Republicans have a 52-48 majority in the Senate. But Democrats will insist on 60 votes to clear a procedural move known as a a filibuster to allow a final up-or-down vote on confirming Gorsuch to America's highest court. Donald Trump has called on Republicans to change the rules to allow a simple majority vote on confirmation.
But Schumer pleaded with Republicans not to deploy this so-called "nuclear option", insisting: "If this nominee cannot earn 60 votes, a bar met by each of President Obama's nominees, and President Bush's last two nominees, the answer isn't to change the rules – it's to change the nominee."
Singling out the crimes of undocumented immigrants has one objective: to make people view them as deviant, dangerous and fundamentally undesirable;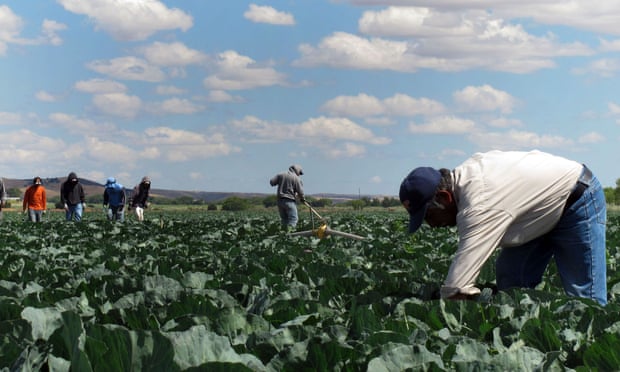 'This serves no purpose but to demonize immigrants.' Photograph: Gosia Wozniacka/AP
Donald Trump wants us to associate immigrants with criminality. That is the reason behind a weekly published list of immigrant crimes – the first of which was made public on Monday. Singling out the crimes of undocumented immigrants has one objective: to make people view them as deviant, dangerous and fundamentally undesirable.
The very idea is sinister.
Since the start of his presidential campaign, Trump characterized brown-skinned immigrants as criminals by painting Mexicans as rapists and Muslims as terrorists. This fear-mongering has continued into his administration, and has expressed itself in unprecedented policies.
A radical middle-class insurgency has stormed the Republican Party.
In 2016, a radical, right-wing, middle-class insurgency displaced the dominant capitalists in the Republican Party, at least temporarily. Donald Trump's nomination and election is the most recent chapter in an ongoing struggle that began in the aftermath of the economic crisis and the 2008 Democratic electoral victory. Capital successfully beat back the first wave of middle-class radicalism in the Republican Party — the Tea Party — during the 2014 congressional elections, but these rebels were not vanquished. They were radicalized.
Since the 1960s, the voter base of the Republican Party has been made up primarily of older, suburban, white, middle-class, small businesspeople, professionals, and managers, and a minority of older white workers. Until recently, the particular passions of that base — especially its hostility to the democratic gains of people of color, women, and LGBT people — could be contained. Minor concessions to social conservatives on abortion, affirmative action, voter restrictions, and same-sex marriage/legal equality maintained their loyalty, while capitalists set the substantive neoliberal agenda for the Republicans. As with the Democrats, the non-capitalist elements of the Republican coalition were clearly junior partners to capital.
REPORTING ON PATIENT SAFETY STORIES, particularly those involving medical devices, is tough. The road to publication or getting on-air is littered with obstacles—from federal and state regulators as well as device makers—and often constrained by the newsroom itself. Nonetheless, as the 21st Century Cures Act (which loosens regulations over medical device makers and makes it easier to market them based on lower standards) takes effect, the job of warning the public of potentially harmful consequences still falls to the media.
A recent effort by WJLA, the ABC affiliate in Washington, D.C., underscores why such journalism remains crucial. The story—a lengthy exposé about textured breast implants that are implicated in a rare type of lymphoma—is a fine piece of consumer health journalism that should give women in the Washington area a lot to think about before choosing such implants.
Questions about the safety of breast implants have been raised before, and Kimberly Suiters' reporting shows that concerns persist. Her story, Suiters told me, grew out of another that aired a few months earlier. In that first story, Suiters reported that women with breast implants seemed to have higher suicide rates than women who did not have them. One plastic surgeon told Suiters about an apparent connection between a certain type of textured implant and lymphoma. The surgeon—a former board member at Allergan, which manufactures implants—mentioned his concerns over the possible link to the manufacturer. He also shared those concerns with Suiters, which prompted her to dig deeper.
Drone strikes require deeper reforms than changing which officials approve a "kill list."
We're allowing a mindset of "anything Trump does is wrong"—coupled with lightning-speed historical revisionism for the Obama era—to sustain the same mistakes in the war on terror that have continued to fuel radical Islam. But there may be a window of opportunity to turn the anti-Trump rhetoric into a review of the failed policies of the last decade and a half.
A recent example of "anything Trump does is wrong" has to do with the president changing the rules for drone-kill decision making. In May 2013 President Obama self-imposed a dual standard (known as the "playbook") for remote killing. The White House, including Obama himself reviewing a kill list at regular meetings, would decide which individuals outside of the "traditional war zones" of Iraq and Afghanistan would be targeted.
Meanwhile, in America's post-9/11 traditional war zones, military commanders then made, and now make, the kill decisions without civilian review, with the threshold for "acceptable civilian casualties" supposedly less strict. Because the president is supposed to make his decisions with more regard than the military for civilian deaths (though there are no statistics to support that this has been the outcome), the process represented, in the words of the New York Times, "restraint." Other supporters refer to the president's role as oversight.
The time has come for the UK's tax havens, which make up half of the top offshore centres, to make a choice: complete independence from the UK and keep their laws, or implement all relevant UK laws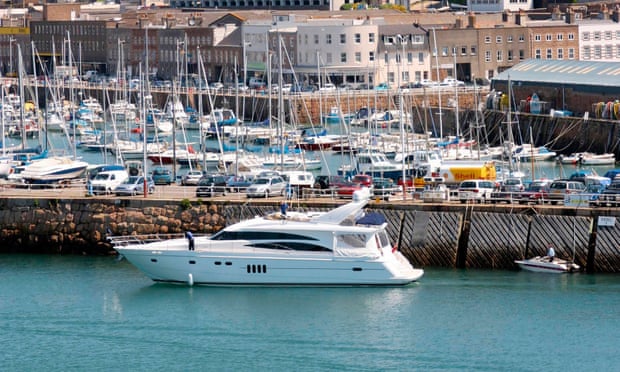 'Tax havens trade on the integrity of the UK while having different legal and regulatory arrangements for the rich.' St Helier Harbour, Jersey. Photograph: Stuart Abraham/Alamy
This newspaper's work exposing the "Laundromat" system of money-laundering highlights again the weaknesses in the United Kingdom's financial system – built around the City – for detecting illicitly and corruptly obtained money, in this case from Russia. Most of this money is related to proceeds of crime, tax evasion and capital flight. How much dirty Russian cash has entered the financial system is unknown. About $20bn in criminal proceeds was laundered into 96 countries via eastern Europe and UK companies, many of them managed offshore. Worryingly, some may have fuelled political subversion.
Britain has a responsibility in tackling this at home and abroad. Crown dependencies and overseas territories constitute about half of the top global offshore sectors. They trade on the stability and integrity of the UK while having different legal and regulatory arrangements for rich individuals, trusts and corporates. The time has come for them to make a choice between complete independence from the UK and keeping their laws as they are, or implementing all relevant UK laws. If you want to trade on your association with Britain, then accept the standards the UK asks for the regulation of financial services. These centres should decide: British laws or their own.
Human rights groups call for release of men arrested by security forces at Minsk literature festival, and others held as protests rock authoritarian state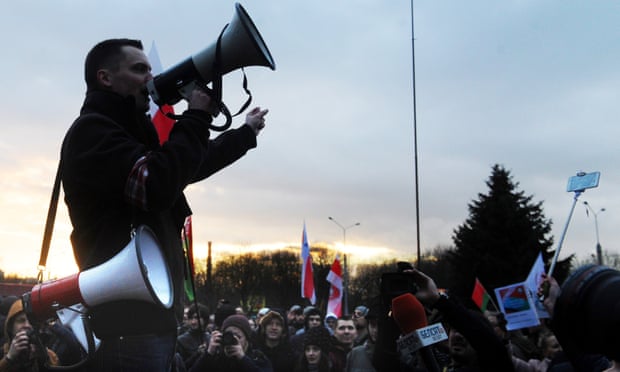 A demonstrator at 'The March by Those Who Are Not Social Parasites' in Minsk last week. Photograph: Viktor Drachev/Tass
Human rights organisations have called on Belarusian authorities to drop all charges immediately against writers, publishers and journalists who have been arrested following a wave of nationwide protests.
The Committee to Protect Journalists said security forces had detained or otherwise obstructed at least 32 people in recent weeks. It was joined by Pen America in protesting against the arrests.
PRINCETON – On March 27, the United Nations will start negotiations on an international treaty to ban nuclear weapons. It will be a milestone marking the beginning of the end of an age of existential peril for humanity.
This day was bound to come. From the beginning, even those who set the world on the path to nuclear weapons understood the mortal danger and moral challenge confronting humanity. In April 1945, US Secretary of War Henry Stimson explained to President Harry Truman that the atomic bomb would be "the most terrible weapon ever known in human history." Stimson warned that "the world in its present state of moral advancement compared with its technical development would be eventually at the mercy of such a weapon. In other words, modern civilization might be completely destroyed."
....The new resolution's instructions are straightforward: "States participating in the conference" should "make their best endeavors to conclude as soon as possible a legally binding instrument to prohibit nuclear weapons, leading towards their total elimination." The treaty could be ready before the end of the year.
The nine nuclear weapon states will finally be put to the test. Will they keep their promises to disarm and join the treaty, or will they choose their weapons over international law and the will of the global community? The non-weapon states that join the treaty will be tested, too. How will they organize to confront those countries in the world system that choose to be nuclear outlaws?
....Last year also marked the first time in millions of years that the concentration of CO2 in the atmosphere reached 400 parts per million (ppm). While the Paris climate agreement was hailed as a major success when it was concluded in December 2015, many signatories have displayed a remarkable lack of ambition in upholding their carbon-reduction commitments. To understand why is to see the sheer extent to which our systems of government have been captured by the corrupting influence of vested interests.
[corruption examples....]
....To fulfill the Paris agreement, efforts to combat corruption and climate change must go hand in hand. Corruption, in the widest sense of the word, is the glue that holds the "system" together, that ensures that moneyed and powerful interests are free from rules that are meant to hold them in check. It is why governments that pledged to make large reductions in greenhouse-gas emissions have been unable to meet their commitments.
Shell, Exxon, and most other major oil and gas companies knew decades ago that their products were fueling climate change. But instead of acting on that knowledge, and changing their business model, they embarked on a massive campaign to deceive the public and lure policymakers into complacency. Not surprisingly, Shell is one of 47 major hydrocarbon producers now being investigated by the Filipino government for its role in contributing to human-rights violations stemming from climate change.
To sustain progress in the fight against climate change and corruption, environmental and anti-corruption movements will have to work together, and play to their respective strengths. If nothing else, Trump's election, and the possibility of more populist victories in Europe this year, have given us a wake-up call.
Exclusive: Draft regulations seen by the Guardian reveal the European commission wants to prohibit the insecticides that cause 'acute risks to bees'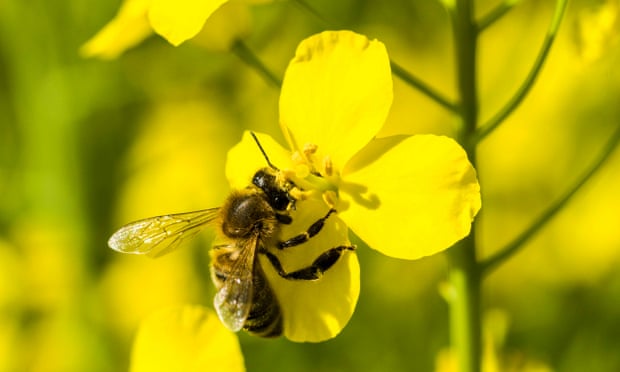 A Carniolan honey bee (Apis mellifera carnica) is collecting nectar at a yellow rapeseed blossom. Bees and other vital food crop pollinators have been declining for decades. Photograph: Frank Bienewald/LightRocket/Getty Images
The world's most widely used insecticides would be banned from all fields across Europe under draft regulations from the European commission, seen by the Guardian.
The documents are the first indication that the powerful commission wants a complete ban and cite "high acute risks to bees". A ban could be in place this year if the proposals are approved by a majority of EU member states.
Bees and other pollinators are vital for many food crops but have been declining for decades due to habitat loss, disease and pesticide use. The insecticides, called neonicotinoids, have been in use for over 20 years and have been linked to serious harm in bees.
A fierce battle has been fought between environmental campaigners and farming and pesticides groups. The latter argue the insecticides are vital for crop protection and that opposition is to them is political.
The EU imposed a temporary ban on the use of the three key neonicotinoids on some crops in 2013. However, the new proposals are for a complete ban on their use in fields, with the only exception being for plants entirely grown in greenhouses. The proposals could be voted on as soon as May and, if approved, would enter force within months.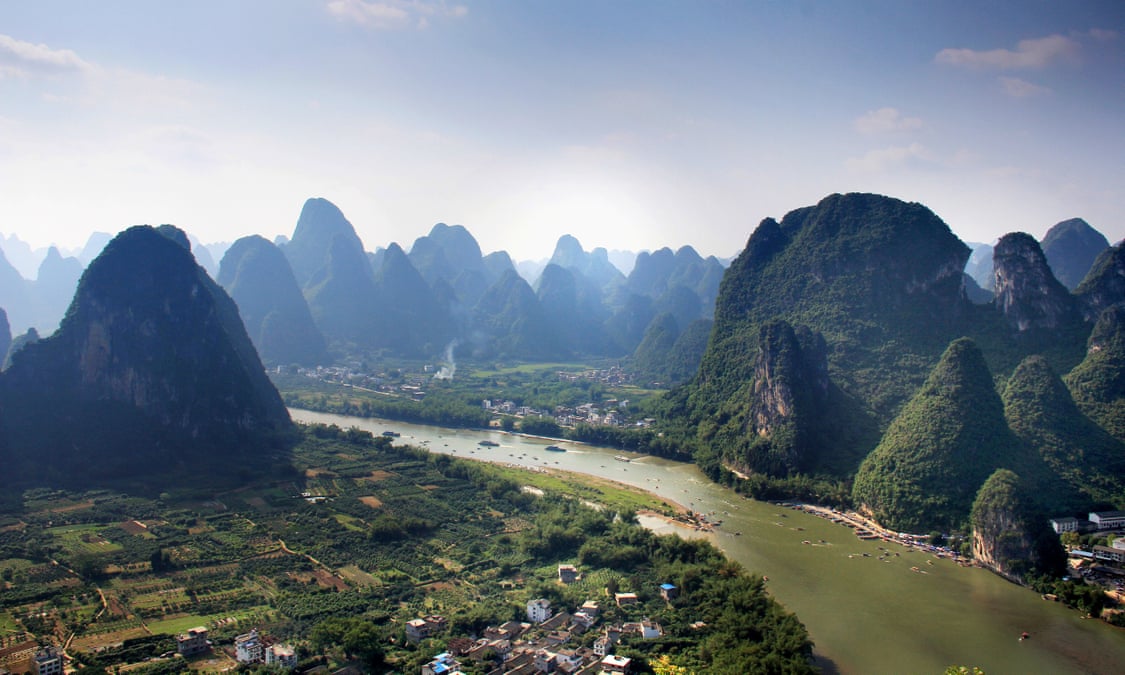 The Li River and the spectacular karst peaks that the Guilin region is famous for. Photograph: Imaginechina/Rex/Shutterstock
A plan to halve carbon emissions every decade, while green energy continues to double every five years, provides a simple but rigorous roadmap to tackle climate change, scientists say
A new "carbon law", modelled on Moore's law in computing, has been proposed as a roadmap for beating climate change. It sees carbon emissions halving every decade, while green energy continues to double every five years.
The carbon law's proponents are senior climate-change scientists and they argue it provides a simple, broad but quantitative plan that could drive governments and businesses to make urgently needed carbon cuts, particularly at a time when global warming is falling off the global political agenda.
Christiana Figueres, who as the then UN's climate chief delivered the landmark Paris climate change deal in 2015, said: "The carbon law for keeping us on track with Paris – something we can all follow – is such a valuable contribution at this critical time."
Moore's law is the observation that innovation doubles the number of transistors on a computer chip about every two years and it has held true for 50 years. The researchers behind the carbon law say similar laws of exponential growth can already be seen in clean energy.