The leave campaign has opened up a Pandora's box of resentment and suspicion – and it's only going to get worse when Brexit fails to deliver on its promises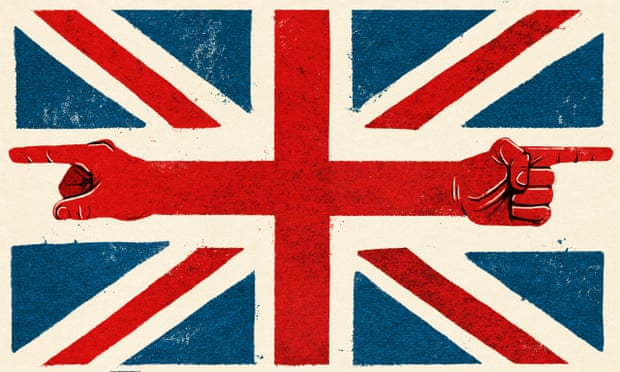 Illustration by Ben Jennings
On chaos of the kind Britain now faces, history is clear: some people always get hurt more than others. Just which groups stand to suffer most this time round is already becoming worryingly clear. Take a look at the hate reports that have come pouring in over the past few days.
In Huntingdon, Polish-origin schoolkids get cards calling them "vermin", who must "leave the EU". They come with a Polish translation, thoughtfully enough. From Barnsley, a TV correspondent notes that within five minutes three different people shout, "Send them home." On Facebook, a friend in east London tells how, while trying to sleep on a hot night, he hears a man bellowing outside his open window: "We've got our country back and next I'll blow that fucking mosque up."
None of this is coincidental. It's what happens when cabinet ministers, party leaders and prime-ministerial wannabes sprinkle arguments with racist poison. When intolerance is not only tolerated, but indulged and encouraged. For months leading up to last week's vote, politicians poured a British blend of Donald Trumpism into Westminster china. They told 350m little lies. They made cast-iron promises that, Iain Duncan Smith now admits, were only ever "possibilities". And the Brexit brigade flirted over and over again with racism.
Michael Gove and Boris Johnson peddled their fiction about Turkey joining the EU. One didn't need especially keen hearing to pick that up as code for 80 million Muslims entering Christendom. Foregoing any subtlety, Nigel Farage said allowing Syrian refugees into the UK would put British women at risk of sexual assault. In order to further their campaign and their careers, these professional politicians added bigotry to their armoury of political weapons.
The EU referendum result has thrown many thousands of people, particularly young adults, into bitter conflict with the closest members of their families – divisions that 'won't heal any time soon'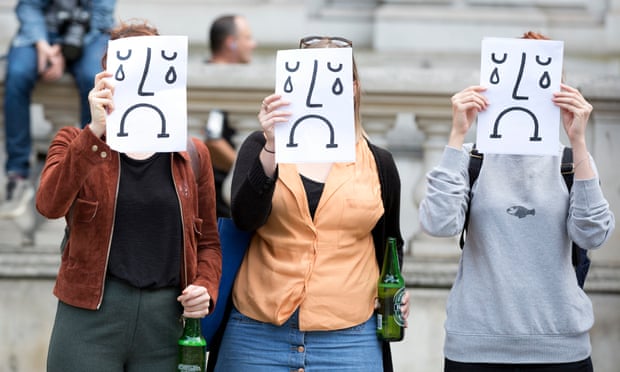 'I'm ashamed of my own mother': many 'millennials' feel that the older generation has selfishly voted against the interests of subsequent ones. Photograph: Isabel Infantes/PA
UN children's agency report highlights toll on youngsters by 2030 unless world leaders turn rhetoric into reality on fighting poverty
Less than a year after the world promised to leave no one behind by signing up to an ambitious 15-year blueprint to end inequality, the UN children's agency says that 69 million children will die from mostly preventable causes by 2030, and 167 million will be living in extreme poverty, unless world leaders turn rhetoric into reality.
In its latest State of the World's Children report, Unicef also says 750 million women will have been married as children by 2030, the date by which the sustainable development goals to tackle poverty and secure the planet's future are supposed to have been achieved.
Nearly half of the 69 million children whose deaths the report foresees will be in sub-Saharan Africa, where at least 247 million children – two in every three – are deprived of what they need to survive and develop.
In an attempt to keep news of troop deaths quiet, government arrests reporters circulating information online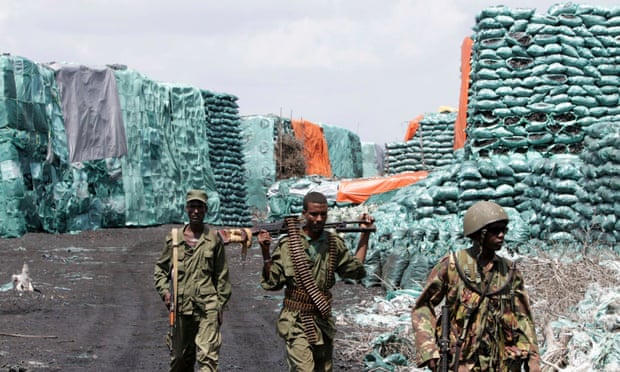 Kenya Defence Forces at a charcoal depository formerly under the control of al-Shabaab militants. Photograph: Noor Khamis/Reuters
Carlos Antonio Lozada, supreme urban commander of Colombia's Farc rebels, is poised to lead his organisation into politics. In this exclusive interview he speaks about war, making peace and meeting victims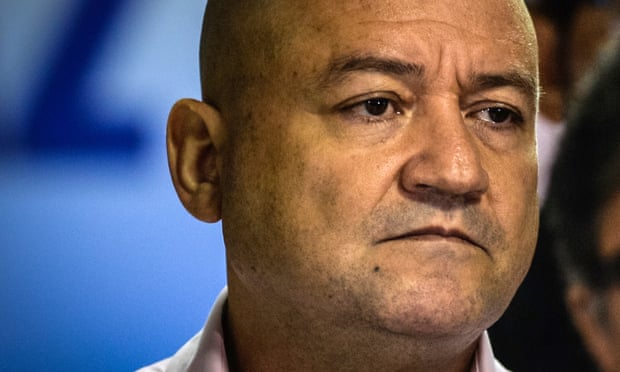 'No future generations of Colombians should have to go through this war': the Farc rebels' supreme urban commander Carlos Antonio Lozada. Photograph: Adalberto Roque/AFP/Getty Images
The Revolutionary Armed Forces of Colombia (Farc) stands apart from other Latin American leftwing guerrilla movements founded since the 1960s because it has outlived them all – well into the 21st century – and remains in control of vast tranches of territory. But it is also from a different mould: almost entirely rural – its leaders have not been intellectuals, such as Che Guevara, but peasants, fighting a peasant war in the countryside. The Farc's violence has, however, had an impact on the cities, and during the 1990s Colombia even feared that the guerrillas were poised to take the capital, Bogotá.
The group's presence in urban areas has been led by a man who most observers say will be the new figurehead of Farc in politics, Carlos Antonio Lozada (left). Lozada is from a generation younger than the guerrillas' supreme commanders, and though he also fought in the jungle with them he is distinct in that he hails from Colombia's second city of Cali. He spent 19 years in Colombia's cities as Farc's supreme urban commander.
During recent months the Observer has interviewed all Farc's commanders, in depth, for a long-term project, including Lozada, Farc's coming man, who hopes to take the organisation into its next conflict, a political fight, a "war without weapons, but with words". Here, in this interview extract, Lozada talks exclusively about the road to the Havana peace deal.
A woman's control over her body will be a defining issue for female voters in November, Planned Parenthood says after landmark supreme court ruling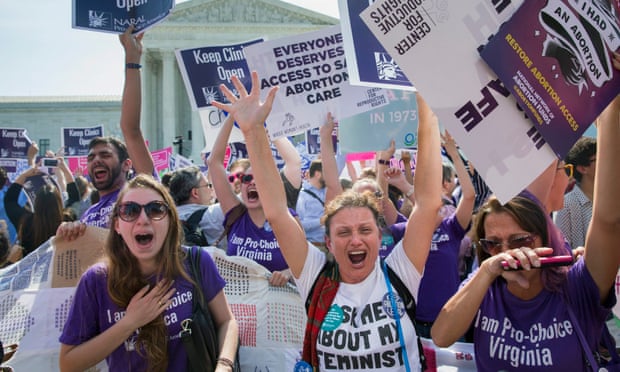 Pro-choice supporters's emotional celebrations outside the supreme court after the ruling on 27 June 2016. Photograph: Michael Reynolds/EPA
"By striking down politically motivated restrictions that made it nearly impossible for Texans to exercise their full reproductive rights, the court upheld every woman's right to safe, legal abortion, no matter where she lives," the presumptive Democratic presidential candidate said.
Vermont senator Bernie Sanders, who was defeated by Clinton in the Democratic primary, also applauded the decision.
"After all the progress we have made on women's rights, we cannot go back to the days when women in America did not have the right to control their own bodies," Sanders said.
Planned Parenthood president Cecile Richards said that the opinion would be a "defining issue" for female voters, a group that Trump is struggling to court.
As one of Bernie's delegates, I'm disappointed so far. But we're still fighting hard.
AP Photo
I've had a front-row seat to the first round of the process, as 1 of 5 delegates Sanders named to draft the platform. (The Clinton campaign named six, and Debbie Wasserman Schultz, chair of the Democratic National Committee, added four more.) We spent two weeks listening to powerful testimony from citizens around the country, and then on Friday in St. Louis we started taking votes.
And it was there that the essential dynamic quickly emerged. The Clinton campaign was ready to acknowledge serious problems: We need fair trade policy, inequality is a horrible problem, and unchecked climate change will wreck the planet. But when it came to specific policy changes, they often balked. Amendments against the Trans-Pacific Partnership trade agreement and backing Medicare for all failed, with all the Clinton delegates voting against.
At which point we got (about 11 p.m., in a half-deserted hotel ballroom) to the climate section of the platform, and that's where things got particularly obvious. We all agreed that America should be operating on 100 percent clean energy by 2050, but then I proposed, in one amendment after another, a series of ways we might actually get there. A carbon tax? Voted down 7-6 (one of the DNC delegates voted with each side). A ban on fracking? Voted down 7-6. An effort to keep fossils in the ground, at least on federal land? Voted down 7-6. A measure to mandate that federal agencies weigh the climate impact of their decisions? Voted down 7-6. Even a plan to keep fossil fuel companies from taking private land by eminent domain, voted down 7-6. (We did, however, reach unanimous consent on more bike paths!)
In other words, the Clinton campaign is at this point rhetorically committed to taking on our worst problems, but not willing to say how. Which is the slightly cynical way politicians have addressed issues for too long—and just the kind of slickness that the straightforward Sanders campaign rejected.
The GOP nominee has yet to mount an actual campaign. How much longer can our pundits pretend this is a horse race?
Republican U.S. presidential candidate Donald Trump speaks at a campaign event on the day several states held presidential primaries, including California, at the Trump National Golf Club Westchester in Briarcliff Manor, New York, U.S., June 7, 2016 REUTERS/Carlo Allegri - RTSGHCR (Credit: Reuters/Carlo Allegri)
It's not just Trump's finances. It seems with every important campaign measurement — staffing, get out the vote, communications, etc. — Trump not only languishes; he barely competes.
It's certainly possible, given Trump's history and lack of political experience, that his campaign's problems stem largely from basic incompetence. But something else might be in play here.
Republicans have been staging modern White House campaigns for decades. Sometimes they're successful and sometimes they're not, but the party always manages to build an apparatus and support system that's designed to compete on the national stage. So why would that formula suddenly elude Trump? Why would this nominee not to be able to pull off Campaign 101 as the calendar readies its flip to July?
Just as importantly, why is Trump's campaign pouring so much money into paying Trump's own companies for goods and services?
Barack Obama, Justin Trudeau and Enrique Peña Nieto to announce new 'aggressive but achievable' goal at 'Three Amigos' summit in Ottawa
The Thames estuary is home to the world's largest offshore wind farm – a model for exploiting the potential of Britain's gusty coastlines
London Array occupies 40 square miles and comprises 175 wind turbines. Photograph: Bloomberg via Getty Images
While the UK ranks comparatively low in the European renewable energy rankings, in wind power it is flourishing, having overtaken France as the sixth largest global generator of wind power, and boasting the largest offshore capacity in the world.
Offshore wind is not only clean and increasingly cheap, it is also among the most popular energy sources in Britain, exploiting the wealth of a well-buffeted coastline without impacting on local landscapes. "When you compare it to other technologies, it's a fairly sure bet," says Duffy. "It's a mature technology and it's a very effective way of installing new power on to the grid."