A party that no longer believes in American values.
....The truth is that the G.O.P. faced its decisive test in 2016, when almost everyone in the Republican establishment lined up behind a man fully known to be a would-be authoritarian who was unfit morally, temperamentally and intellectually for high office.
In their chilling book "How Democracies Die," Steven Levitsky and Daniel Ziblatt call this "the great Republican abdication." The party's willingness to back behavior it would have called treasonous if a Democrat did it is just more of the same.
Levitsky and Ziblatt say that when mainstream politicians abdicate responsibility in the face of a leader who threatens democracy, it's usually for one of two reasons. Either they have the misguided belief that he can be controlled, or they're willing to go along because his agenda overlaps with theirs — that is, they believe that he'll give them what they want.
At this point it's hard to imagine that anyone still believes that Trump can be controlled. But he is delivering on the Republican establishment's agenda — certainly far more than any Democrat would.
The key point is that Republicans are committed to a policy agenda that is deeply unpopular. By large margins, the American public believes that corporations and the wealthy don't pay their fair share in taxes. By even larger margins, the public opposes cuts to safety-net programs like Medicaid. Yet as far as I can tell, every G.O.P. budget proposal over the past decade has combined big tax cuts for the rich with savage cuts in Medicaid.
If the Republican agenda is so unpopular, how does the party win elections? Partly by lying about its policies. But mainly the G.O.P.'s political achievements depend on identity politics — white identity politics. Exploiting racial resentment to capture white working-class voters, while pursuing policies that benefit only the wealthy, has been the core of the party's political strategy for decades. That's why, in an increasingly diverse country, Republican support has stayed overwhelmingly white.
In a fundamental sense, Trumpism is the culmination of that strategy. Commentators keep calling Trump a "populist," but the only way in which he actually caters to working-class white voters is by appealing to their racial animus. He may be successful in doing so partly because it's the only thing about his political persona that's sincere: All indications are that he really is a racist....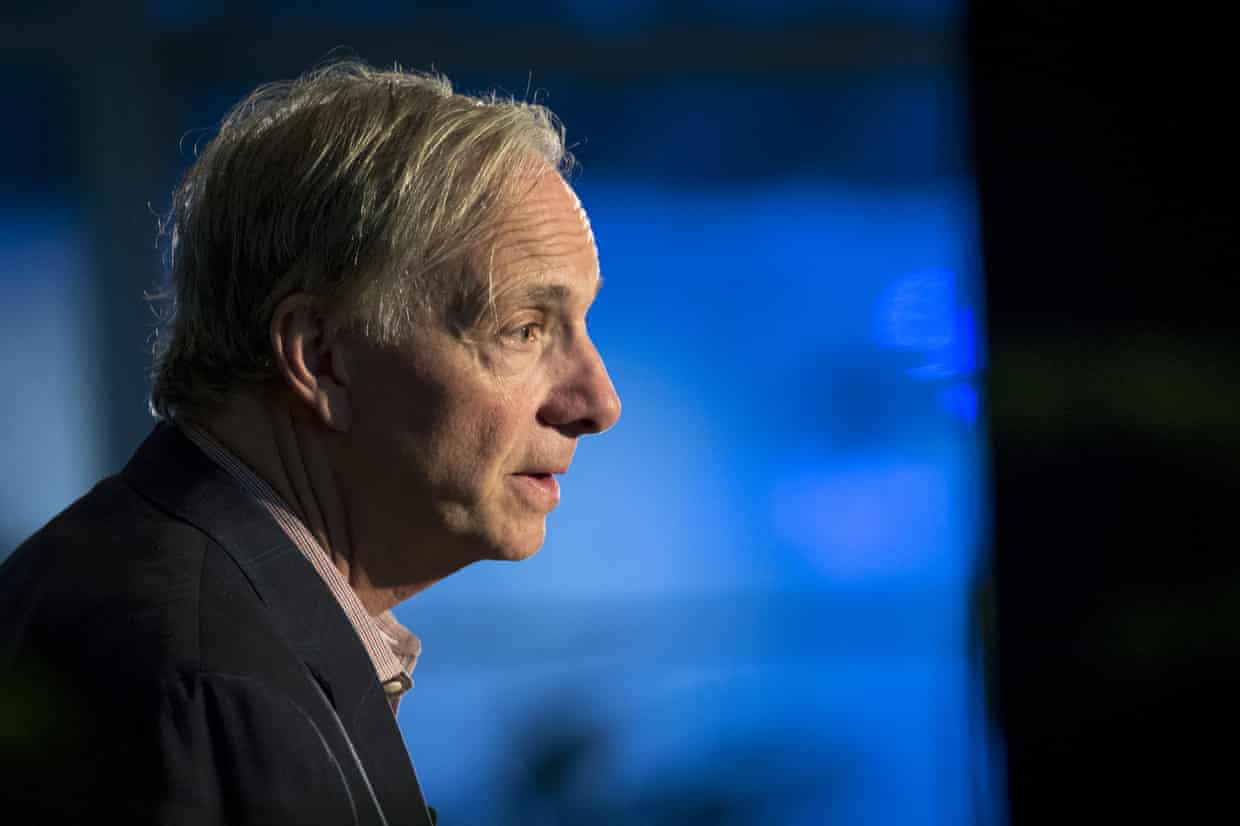 Ray Dalio. 'The last time the 1% felt so under pressure was probably back in the 1930s as the US came to terms with the Great Depression.' Photograph: David Paul Morris/Bloomberg
....The last time the 1% felt so under pressure was probably back in the 1930s as the US came to terms with the Great Depression, said Geisst. But back then the super rich did not criticize capitalism. "If you called someone a communist or a socialist at that time, that was fighting words because of the atmosphere with the Soviets," he said.
Even after the crash, "capitalism" didn't need defending.
Now the political debate has shifted, said Geisst. "I think they realize that Bernie Sanders has a lot more support than a lot of people think," he said. Sanders and fellow Democratic presidential hopeful Elizabeth Warren "could give them a really bad time" with their plans for higher taxes and greater regulation, he said. "These people are famous for hedging their bets, and this is another way of doing it."
Steve Glickman, a senior economic adviser in the Obama administration and now founder of Develop, a company seeking to attract investment to low-income areas called "opportunity zones", said the very wealthy understand there has been a societal change that challenges the way they have done business.
"An increasing chunk of the country has been left behind and that can't be ignored any more," he said. "The rise of populism, not just in the US but also in many other markets like Europe, is dramatically affecting the business model they have taken for granted. We are turning the table on what was close to 90 years of agreed upon bipartisan policy goals around trade and immigration."
How sincere the 1% are about helping the 99% rather than themselves may be up for debate but it is pretty clear that the billionaires do believe there is a crisis.
Now, Dalio worries generations of children are being left behind. "Today, the wealth of the top 1% of the population is more than that of the bottom 90% of the population combined, which is the same sort of wealth gap that existed during the 1935-40 period (a period that brought in an era of great internal and external conflicts for most countries)," he wrote before going on to dissect how this gap hits poor people's health, education and opportunities.
As Dalio points out:
Forty per cent of all Americans would struggle to raise $400 in the event of an emergency.
The childhood poverty rate in the US is now 17.5% and has not meaningfully improved for decades.
The US scores lower than virtually all developed countries other than Italy and Greece on educational attainment.
The US incarceration rate is nearly five times the average of other developed countries and three times that of emerging countries.
For those in the bottom 60%, premature deaths are up by about 20% since 2000.
"The last time that this configuration of influences existed was in the late 1930s when there were great conflicts and economic and political systems were overturned," wrote Dalio. You know things are bad when billionaires reach for Hitler analogies....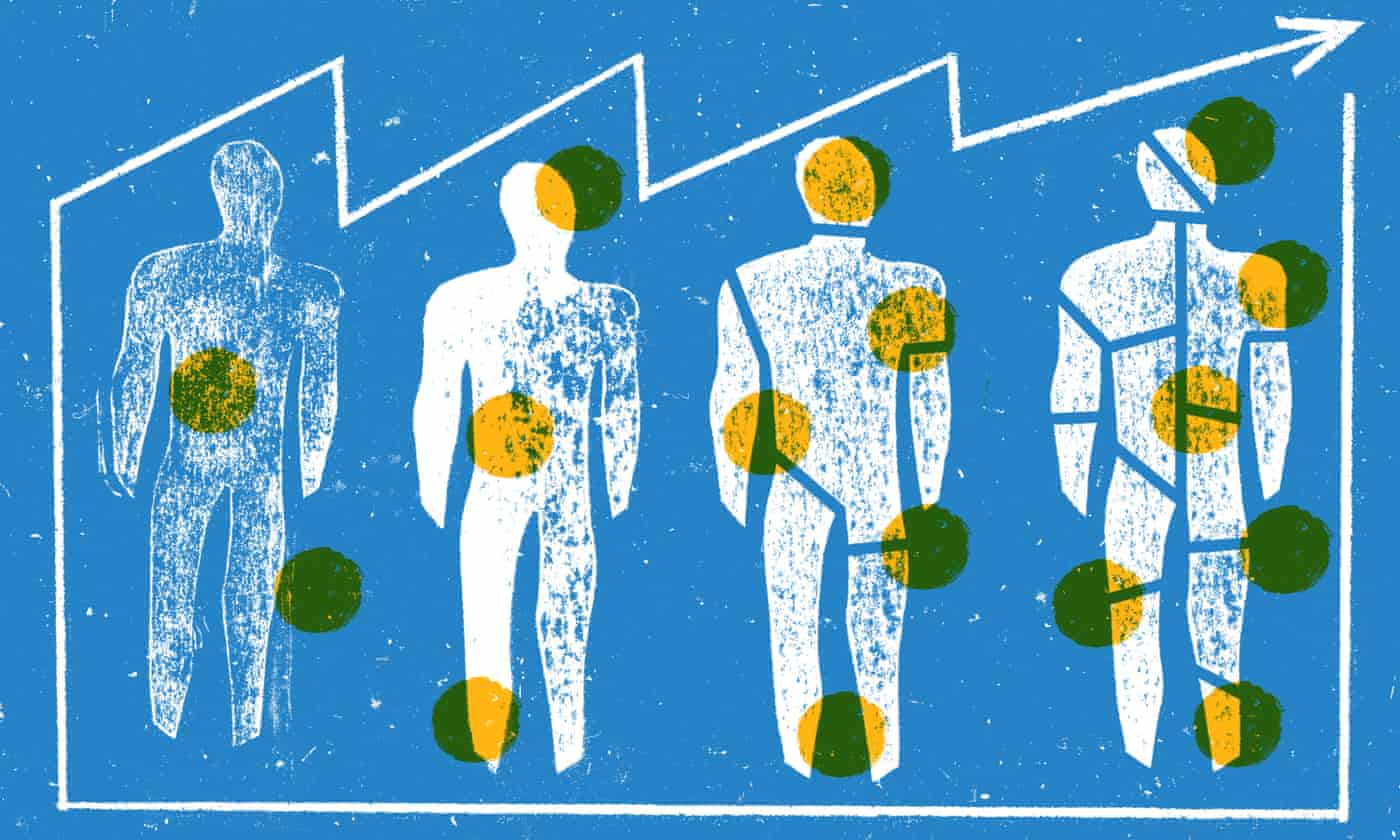 Young Americans and supporters of the Democratic party are now more enthusiastic about socialism than capitalism. Illustration: Lucy Jones for Guardian US