"Saying 'corporations must pay their fair share' should mean that pre-Trump rates are the starting point."
Sen. Joe Manchin (D-W.Va.) speaks with reporters outside the Senate side of the U.S. Capitol Building on Tuesday, April 13, 2021 in Washington, D.C. (Photo: Kent Nishimura/Los Angeles Times via Getty Images)
The next time you hear your favorite political proposals being labeled as too "divisive," "contentious," or "polarizing" to work, check the polls first.
"The idea of Medicare for All is immensely contentious," says the New York Times (3/18/19).
Brandon Hole
bought assault weapons
he used in attack months after his shotgun was confiscated over mental health concerns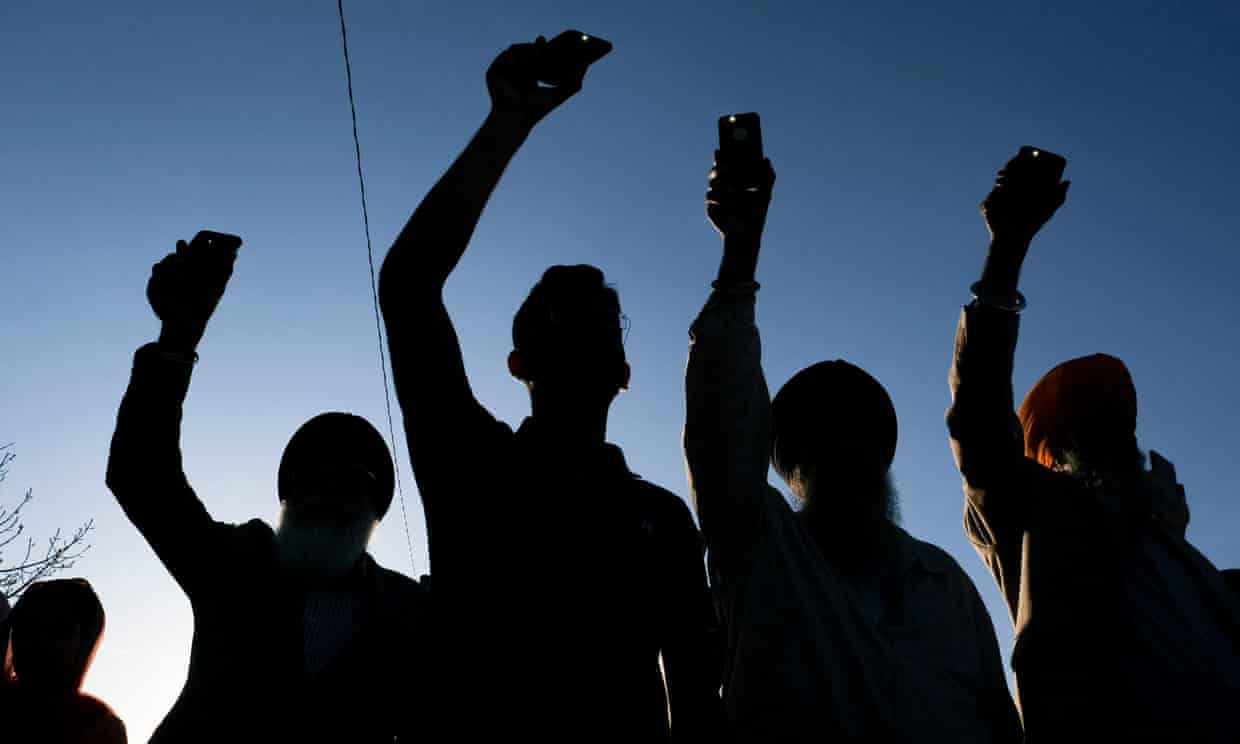 Friends, family and community members hold up their phones during a candlelight vigil held in Krannert Park in Indianapolis, Indiana, to remember the victims of a mass shooting at a local FedEx facility. Photograph: Jeff Dean/AFP/Getty Images
President will also call on major economies to join him in bold action at virtual summit of 40 world leaders
Joe Biden has made the climate emergency one of his administration's top priorities. Photograph: Mandel Ngan/AFP/Getty Images
Fiona Harvey
Environment correspondent
|
The Guardian
| 21.04.19
A house burns during the Woolsey Fire on November 9, 2018 in Malibu, California. (Photo: David McNew/Getty Images)
It is irrational to rely on capitalist solutions to global warming when it is capitalism itself that has led us towards the current path of a climate catastrophe.
The United States was lying down on the job.
The DOE/Sandia Scaled Wind Farm Technology (SWiFT) facility at the Reese Technology Center in Lubbock, Texas allows for rapid, cost-efficient testing and development of transformative wind energy technology, with specific emphasis on improving wind plant performance. (Photo: Lloyd Wilson/Sandia Labs/Flickr/cc)
The era of intentionally dumping toxic waste in our one global ocean is, or should be, over.
Storage tanks for radioactive water stand at Tokyo Electric Power Co.'s (TEPCO) Fukushima Dai-ichi nuclear power plant on January 29, 2020 in Okuma, Fukushima Prefecture, Japan. TEPCO hosted a media tour to the nuclear plant wrecked by an earthquake and tsunami in 2011. (Photo: Tomohiro Ohsumi/Getty Images)