Illustrated | Scott Olson/Getty Images, JOSEPH PREZIOSO/AFP/Getty Images, AndreyPopov/iStock, azgek/iStock, javarman3/iStock
....despite much carping from critics about how he was a paper tiger whose polling would crumple the moment it came into contact with reality, Biden's announcement bump has been sustained and substantial. On the eve of his entrance into the race, he led Bernie Sanders by an average of just over 6 points, with Kamala Harris, Elizabeth Warren, Pete Buttigieg and Beto O'Rourke bunched together in the mid-to-upper single digits. But while Sanders' numbers have eroded along with the others, Biden has surged, opening up nearly a 20-point gap in polls.
The only candidate to have gained traction since Biden's entry is Warren, whose relentless barrage of hotter-than-a-graphite-fire policy proposals may finally be breaking through with voters. She was even nipping at Bernie's heels in the latest Quinnipiac poll. The upshot is that we are now much closer to the basic moderate-progressive schism that many predicted and that we've seen in previous cycles. The trouble for progressives is that, even though their wing of the party might be ascendant, Sanders and Warren have the potential to divide their vote all the way to Milwaukee, allowing the more center-left Biden to claim the nomination. If they want to stop him, they're going to have to talk one of their preferred candidates into dropping out of the race....
If the 2020 hopeful can avoid getting sideswiped by a fast-moving horse candidate, she's in decent shape to challenge Sanders and Biden.
Warren's campaign is chugging along, fueled by her many "plans." Photo: Matt Rourke/AP/REX/Shutterstock
For decades, the Boy Scouts of America has closely guarded a trove of documents that detail sexual abuse allegations against troop leaders and others....
The president directed his attorney general to declassify information—raising the prospect of selective disclosures.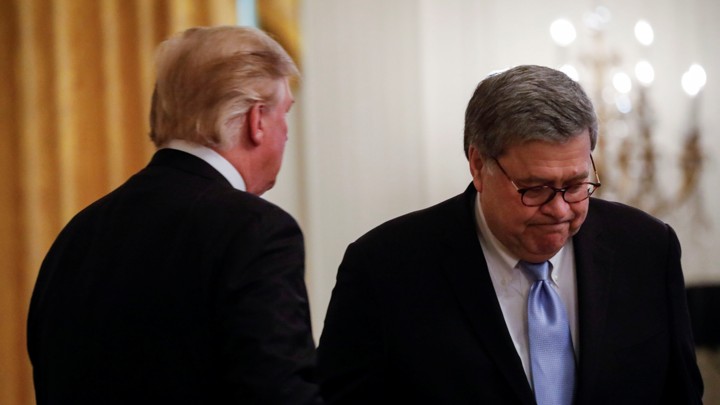 CARLOS BARRIA / REUTERS
President Donald Trump can only escalate. He cannot help it.
On Thursday night, he spread from his own presidential account a video of the speaker of the House, edited to splice together moments when she stumbled over her words, in an apparent effort to deceive people into thinking her drunk or ill. In 2016, Trump's Russian supporters performed this service for him with faked videos of Hillary Clinton. Now he seems to have decided that if you want a dirty-tricks campaign done right, you must do it yourself.
At the same time, he has put the declassification powers of the presidency to work as part of a larger campaign of cover-up.
Trump directed his attorney general to declassify documents in an effort to depict Trump's campaign as a victim of improper surveillance in 2016. Trump tweeted that the attorney general had "requested" these powers. That may even be true. But Trump has been demanding such an investigation of U.S. intelligence agencies since long before William Barr got the top law-enforcement job. Barr is compliant and complicit, but the idea is all Trump's.
The declassification process will be selective, of course, in service to a predetermined narrative. Meanwhile, Trump's lawyers are fiercely battling in court to suppress congressional subpoenas for the financial documents that would cast light on Trump's pre-2016 finances....
As inequality has grown, American seniors have been exposed to financial distress in ways that often go unnoticed
Vivian Majors takes care of her husband Martin who has Parkinson's disease. Photograph: Annie Flanagan/The Guardian