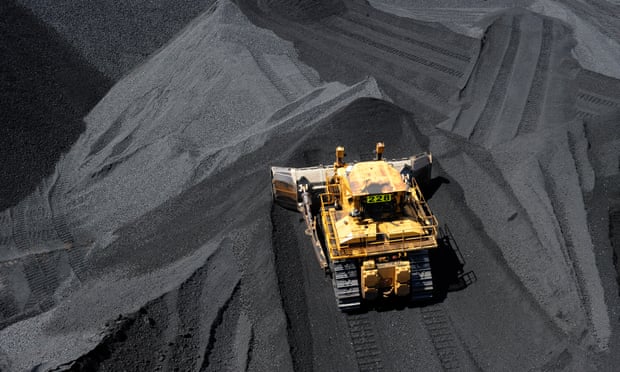 A recent study in the Lancet said climate change, fuelled by the burning of coal, presents a 'potentially catastrophic risk to human health' through pollution, extreme weather events and the spread of disease. Photograph: Dave Hunt/AAP
Decentralised energy systems, such as solar, can be deployed quicker and more cheaply than coal, when its cost to the climate and health are factored in, Oxfam said. Nearly 85% of people without electricity live in remote rural areas, separated from centralised coal-fired grid systems.
Coal exacts an "enormous toll" on people's health, the report states, citing UK medical journal the Lancet's recent finding that a global shift to renewable energy will prevent seven million deaths a year from air pollution.
The Lancet study said climate change, fuelled by the burning of coal as well as other fossil fuels, presents a "potentially catastrophic risk to human health" through heat stress, floods, drought, extreme weather events, air pollution and the spread of disease.
According to the World Health Organisation, climate change is due to cause an additional 250,000 extra deaths a year between 2030 and 2050.
Baltimore, MD – On Tuesday, the Baltimore City Council took its first step toward urging a statewide ban on the dangerous practice of fracking in Maryland. After hearing public testimony, the Council's Judiciary Committee voted 3-0 to advance a resolution calling on the state to place an outright ban on fracking due to its harmful health, environmental and economic impacts. The resolution currently has 13 co-sponsors and is scheduled for a vote by the full Council on August 17.
"We have 15 years to avert a full-blown water crisis; by 2030, demand for water will outstrip supply by 40 percent"
I want to explore two aspects of the water discussion here. First, the drought itself — it's not ending anytime soon. Second, the way to end one of the great squeezes on our remaining water supply — end the death grip of privatizers.
Democratic presidential candidate Hillary Rodham Clinton at a campaign event, Sunday, July 26, 2015, at Iowa State University in Ames, Iowa. On Sunday evening, the Democratic candidate released her plan to fight climate change.
On Sunday evening, the Democratic presidential candidate released a fact sheet detailing her plan to fight climate change, and it focuses heavily on promoting clean energy generation across the country.
Among other things, the plan includes a promise to install half a billion solar panels by 2021, or the end of Clinton's first term. That would represent a 700 percent increase from current installations, she said. Clinton also promised that, if elected, enough renewable energy would be produced to power every home in the country within 10 years.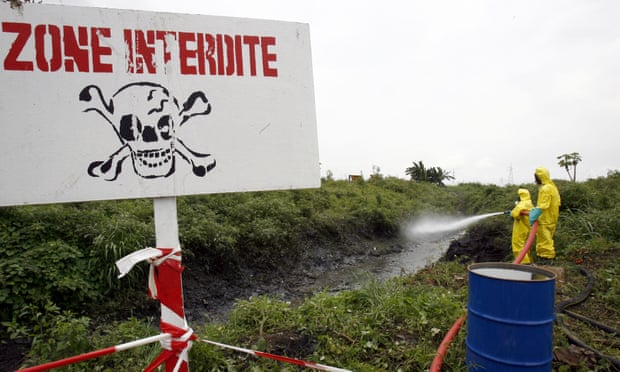 A Dutch team spray water to liquefy the polluted soil and ease the pumping of the toxic waste in Abidjan on 21 September 2006. Photograph: Issouf Sanogo/AFP/Getty Images
UK authorities have admitted they lack both the expertise and resources to investigate the oil company Trafigura for prosecution over its role in a toxic waste dump in Ivory Coast which left up to 100,000 people with skin rashes, headaches and respiratory problems.
In the past 15 months, the human rights group Amnesty International has contacted UK police forces, agencies and prosecutors with a detailed dossier laying out its case for why authorities should explore a criminal conspiracy prosecution against the company for its role in one of the most controversial corporate incidents of the past decade.
Amnesty's case was centred around the shipping and subsequent deliberate dumping of toxic waste in Ivory Coast's largest city by the Probo Koala, a vessel operated by a subcontractor of Trafigura, in 2006.
Industrial-scale violators of fishing bans and protected areas are a main reason more than half of the world's major fishing grounds have been depleted and by some estimates over 90 percent of the ocean's large fish like marlin, tuna and swordfish have vanished. Interpol had issued a Purple Notice on the Thunder (the equivalent of adding it to a Most Wanted List, a status reserved for only four other ships in the world), but no government had been willing to dedicate the personnel and millions of dollars needed to go after it.
So Sea Shepherd did instead, stalking the fugitive 202-foot steel-sided ship from a desolate patch of ocean at the bottom of the Earth, deep in Antarctic waters, to any ports it neared, where its crews could alert the authorities.
---
Though Canada's system is the second most expensive in the world per capita, it would save America $1.3 Trillion/yr and cover everyone
Dr. Peter Bach: Medicare has to pay exactly what the drug company charges. Whatever that number is.
Lesley Stahl: Wait a minute, this is a law?
Dr. Peter Bach: Yes.
Lesley Stahl: And there's no negotiating whatsoever with Medicare?
Dr. Peter Bach: No.
[All other OECD countries negotiate much lower drug & medical procedure costs]
The Vermont senator's revolutionary zeal has met its moment.

Bernie Sanders has one thing Hillary Clinton doesn't: an ideology.

When Sanders set out to run, he tells me, his main fear was that doing so might prove harmful to his ideas. "If I failed, if it was a bad campaign, if we didn't get many votes—fine, I can live with that," he says. Sanders is leaning back on a couch, his leg propped up on a table, squinting through his unfashionable glasses into the middle distance.

"But the ideas that I am talking about—if the campaign did badly, then it would give the establishment the opportunity to say, See, Sanders ran on a platform calling for single-payer national healthcare system, and he did really poorly," he continues. "He ran on a platform calling for the creation of millions of jobs through rebuilding the infrastructure—nobody really supported him. He talked about income and wealth inequality; it didn't go anyplace. Those aren't really good ideas!"

They are like babies to him, fragile and cherished, these ideas. Sanders almost cringes at the thought that they could suffer. "What worried me was not what happens to me personally if I failed—what worries me is what happens to these ideas," he says. "Well. When you have 10,000 people coming out to a meeting in support of these ideas, then people say, Hmm, maybe these ideas have some resonance."

Here are ten things Bernie Sanders must do to build a powerful, racially inclusive campaign.

Sanders hovers in the low to mid-20s among likely white Democratic primary voters and approaches 50 percent support among likely primary voters who are white and self-define as liberal or progressive. Clinton polls well over 60 percent support among likely Democratic primary voters of color. A low overall level of voter recognition is a factor for Sanders, but doesn't explain everything.

Given the above realities, it's time for Bernie supporters to nail the following ten theses to the door of Sanders's national headquarters and demand they be addressed. Not only is it good strategy for the electoral campaign, it'll put Sanders supporters on a better footing to build diverse, powerful movements after it's all over.

Brian Cahn/ZUMA

Five years after Dodd-Frank, the Obama administration is still dragging its feet.

With Bernie Sanders nipping at her heels in the presidential primary, Hillary Clinton is doing all she can to let liberal financial wonks know she's on their side. The Democratic front-runner laid out her vision Friday for getting Wall Street to focus on long-term growth rather than just what she termed "quarterly capitalism"—business deals aimed at quick stock gains. In a speech at New York University, Clinton detailed a host of policy ideas to tackle the problem, such as creating a new tiered system to raise capital gains taxes, raising the minimum wage for certain workers, and diminishing the power of activist shareholders.

Democrats have celebrated the Trump-fueled GOP spiral. Ian Thomas Jansen-Lonnquist/NYTimes/Redux

The collapse of the GOP gives the Democrats an opportunity to abandon "lesser evilism" — but they probably won't

Over the weekend, polls showed that that the Trump-fueled collapse of the Republican Party is reaching historic depths. According to CNN, the GOP's approval rating is now down to 32 percent, the lowest level in over two decades. It probably won't be trending up anytime soon, either, now that the Trump campaign is turning "you can't rape your spouse" into this week's political catchphrase.

Campaign journalism isn't just the worst -- horserace nonsense actively obscures how the rich bought the system

Never have so many done so much to reveal so little than in the collected journalism about presidential nomination contests. The personality-driven trivia. The hokey generalizations. The bogs of conventional wisdom. The day-by-day scorekeeping that ends up worse than uninformative; it is anti-informative. (Just ask Presidents George Romney, Edmund Muskie, Scoop Jackson, John Connally, Richard Gephardt, and Hillary Rodham Clinton.) The utter failure to inform the public of the actual, on-the-ground dynamics of the nuts-and-bolts process by which the parties chose their standard-bearers, and the larger dynamics that drive party trends from decade to decade.

Flint residents received jugs of water from a church in February.

In Flint, Michigan, lead, copper, and bacteria are contaminating the drinking supply and making residents ill. If other cities fail to fix their old pipes, the problem could soon become a lot more common.

A building at a redevelopment project in Hunters Point, another San Francisco neighborhood undergoing gentrification

Parents and educators at a struggling, racially isolated San Francisco school hope their changing community means better times ahead.

Tim Cook, CEO of Apple, announcing the company's new streaming service in June

It's not just unreliable. Apple's signature media software makes bizarre, arbitrary design choices, which are uncharacteristic of the world's most valuable company.

It's not just unreliable. Apple's signature media software makes bizarre, arbitrary design choices, which are uncharacteristic of the world's most valuable company.

iTunes is the glue of Apple's software universe: It connects the company's phones and tablets, desktops and laptops, and online media store and streaming service. It is also, in the inimitable judgement of the indie iOS developer Marco Arment, "a toxic hellstew."

I agree: It's why I wrote about how poorly iTunes performs for classical music listeners and, really, for anyone with a large music library.

Pew has a new report out showing that even five years after the recession ended, more young adults are living with their parents than before the recession. This is despite the fact that unemployment among 20-somethings has dropped dramatically. What's more, this trend is pretty widespread:

The Department of Justice finally makes its move, after years of circling the Pennsylvania Democrat.

The Department of Justice dropped 29 federal racketeering charges on Rep. Chaka Fattah (D-Pa.) and a handful of close associates this morning, claiming that he diverted campaign and charitable funds to cover the cost of a failed mayoral run and to pay off his son's student loans. Investigators have been circling Chattah for years. Last year, a top aide pleaded guilty to helping Fattah divert the money towards his son's student loan debt, and Fattah's son is awaiting trial on federal charges of his own in connection to the scheme.

The host speaks up about Cecil the Lion, and proves again why he's the king

MARY ELIZABETH WILLIAMS |

Salon

Get a cup of coffee. This is a detailed account of the long and tortured history of budget fakery in Greece and how it has been aggressively defended by successive Greek governments. A tidbit from the post: one section is labeled "When revising wrong statistics is treason."

—Yves Smith

[Rushed—have an appointment.
It's the silly political season...]



Sarah Palin (Credit: AP/Cliff Owen)

Palin is the latest conservative to regurgitate a deeply offensive meme about Planned Parenthood "racism"

Anti-choice conservatives are aggressively pushing Alex Jones's conspiracy theory about how Planned Parenthood wants to exterminate black people. We're talking about the same faction that's spent decades complaining about "welfare queens," insisting that African-Americans are having too many kids just so they can continue to collect government checks. It's the same faction that's purging blacks from voter registration rolls, while passing Voter ID laws that prevent minorities from casting ballots. For anyone on the far-right, including Palin, to present themselves as being sympathetic to the Black Americans is laughable on its face.

Below are just a few reasons why the following meme, posted by Palin the other day, is transparently awful.

Scientists at major universities and government labs have quietly been using fetal tissue for decades. They say it is an invaluable tool for certain types of research, including the study of eye diseases, diabetes and muscular dystrophy. Nevertheless, some agree to talk about it only if their names and their universities' names are withheld, because they have received threats of violence from abortion opponents. Companies that obtain the tissue from clinics and sell it to laboratories exist in a gray zone, legally. Federal law says they cannot profit from the tissue itself, but the law does not specify how much they can charge for processing and shipping.

Scott Walker (Credit: Reuters/Carlos Barria)

Abortion foes are targeting women from all sides, spreading lies. Let's clear up a few of the more popular untruths

Check out this mash-up of Amy Schumer's best rape culture takedowns.

A New Haven police officer dismantles a Bushmaster semi-automatic assault rifle after it was turned in during a gun buyback event in 2012. Photograph: Michelle McLoughlin/Reuters

Faced with little appetite in the US Congress to strengthen federal gun laws, Thirteen Democratic senators on Tuesday called on firearm dealers to help reduce the scourge of gun violence in America by performing more robust background checks, even when it's not required by the law.

Their mantra: "No background check, no gun."

On one side: the Congressional GOP, the full slate of Republican presidential candidates, plus Benjamin Netanyahu and allied figures. On the other side: the Obama administration, plus an overwhelming majority of American diplomatic and military figures with experience in the Middle East. Let the arguments begin.

Would-be presidential candidate Donald Trump greets supporters, tourists and the curious in New York City last week. Photograph: Spencer Platt/Getty Images

Donald Trump threatens to expose the contradictions at the heart of the Republican party

Connecticut, Missouri, and Georgia have dropped the slave-owning presidents from their annual fund-raising dinners, and many more states could follow suit.

ADDIS ABABA, Ethiopia — President Obama confronted the power structures of Africa on Tuesday and called for long-entrenched leaders to step down, using his stature as the first American president with African roots to try to reshape the continent's politics.

As he wrapped up what may be his final trip to Africa while in office, Mr. Obama took on one of the region's most enduring obstacles to democratic progress: its history of one-man rule by presidents and potentates who enrich themselves and hang onto power for years, if not decades, in calcified regimes.

"Nobody should be president for life," Mr. Obama declared in a speech at the African Union, the continent's umbrella organization. "Your country is better off if you have new blood and new ideas. I'm still a pretty young man, but I know that somebody with new energy and new insights will be good for my country. It will be good for yours, too, in some cases."

In agreeing to cooperate to clear Islamic State forces out of a 60-mile-long strip of northern Syria along the Turkish border, the United States and Turkey have taken a major step toward increasing pressure on the militant group and easing their differences on the Syrian conflict.

But when it comes to carrying out the agreement, which was reached over the weekend and was described by four senior American officials, significant complications remain.

Not least, the new campaign draws the United States more deeply into the chaotic Syrian conflict, which the Obama administration had been determined to resist. The United States has yet to disclose which Syrian insurgent forces it will enlist in the effort, and the deal shunts aside the Syrian Kurdish Y.P.G. militias that have lately been the United States' main partners in fighting the Islamic State in Syria, but whom Turkey considers enemies.

China's startling attempt to assert control over vast waters has alarmed nearby countries and escalated tensions with the US. Howard W French reports from Hainan, the island at the heart of Xi Jinping's expansionist ambitions

New restrictions on ivory trade in the United States make selling the material across state lines largely illegal.

Turkey and the US have agreed on the outlines of a plan to drive Islamic State out of a strip of land along the Turkey-Syria border, according to reports, in a landmark deal that will draw Turkey further into Syria's civil war and looks likely to increase the intensity of the US air war against Isis.

The agreement to create an "Islamic State-free zone", as officials are calling it, comes days after a wave of violence linked to the Syrian war prompted Turkey, a Nato member, to launch air strikes for the first time against Isis and to allow a coalition led by the US to use its air bases to bomb militant targets in Syria.

The crisis has hit Greece hard, but none harder than its young people. With nearly 60% unemployed, many are living in limbo, waiting for life to restart

DPA/ Polizei Sachsen-Anhalt

During the first six months of this year, right-wing extremists in Germany committed attacks against places housing asylum-seekers on an almost daily basis. Many refugees living in the country fear for their lives.

Mike Huckabee speaks at an Iowa campaign event. Photograph: Nati Harnik/AP

Under the expected settlement, Fiat Chrysler is expected to agree to certain actions to improve its continuing recall of 1.59 million Jeeps equipped with rear-mounted gas tanks that can catch fire in high-speed collisions.

The company is installing trailer hitches on the affected Jeeps to mitigate the impact of rear-end collisions, which have been linked to more than 50 deaths. But the rate of repairs on that recall has been slow and sporadic, according to government investigators.

Opposition demands answers after covert proposals attributed to Yanis Varoufakis and fellow ex-minister highlight deep split in Syriza party

Given all the immediate losers in the Grexit scenario, the creditors would be foolish to make it inevitable — as the latest bailout terms appear to do. What the EU should be doing is changing the economic policies that have turned the currency union into a debilitating trap that countries cannot escape without suffering [chronic] pain.

A for sale sign hangs next to a Puerto Rican flag on a balcony in Old San Juan. Tax breaks have created two parallel real estate markets: one for locals and one for expats. Photograph: Joe Raedle/Getty Images

The Caribbean territory has courted some of Wall Street's richest citizens, selling its debt and offering inducements while local people face high taxes and cuts

---

Dr Walter Palmer (left), pictured here with another of his kills, is accused of paying £32,000 to shoot Cecil the lion. Photograph: facebook

There are mounting calls for the prosecution of an American dentist who shot dead one of Africa's most famous lions, as two other men involved in the hunt were due in court in Zimbabwe to face poaching charges.

Walter Palmer, who runs a dental practice in Minnesota and hunts big game in his spare time, is accused of illegally killing Cecil, a protected lion, in Zimbabwe on a $50,000 (£32,000) hunt.

Security forces and rescue workers watching as bodies of trafficked refugees are retrieved from a mass grave in Thailand's southern Songkhla province. Photograph: Damir Sagolj/Reuters

Bangkok dismayed as report maintains lowest tier 3 status, with US pointing to lack of progress in tackling modern-day slavery and corruption